A few rapidly snatched possessions, some sketchy shelters made from branches and grass and barefoot children being herded out of sight by fearful parents. You have seen it before on TV: another population fleeing from a vicious low-level war.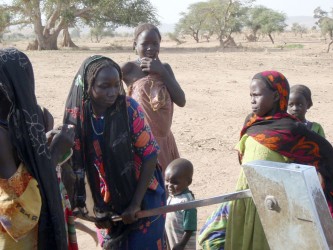 But this group living in the bush somewhere east of Abeche in Chad is not quite what it seems. The people had looked around themselves and asked: what does it take to get a package of aid in a conflict zone? They realised that the key is to be displaced - and so they did just that. They moved from their village and established themselves in the bush, where they waited for the relief machinery to swing into action.
I feel for these folk, the 'background' people against which the drama of the conflict in eastern Chad is playing out. For 250,000 refugees hosted in eastern Chad, the international humanitarian community knows the formula - every aspect of what is considered acceptable is clearly defined: 15 litres per person per day of clean water for drinking, cooking and washing, a daily food ration that comprises 2100 kilocalories, clinics providing basic health care backed up by referral hospitals, a ratio of 25 people to each latrine. These are the minimum levels to ensure physical well being, and, hopefully, to afford a modicum of dignity to people in humanitarian crises.
But there is a small problem. The local population has never, ever enjoyed such levels of service provision. Particularly in the near desert of north-east Chad - water is scarce, and is rarely clean; statistics on malnutrition show that much of the population has a less-than-adequate diet.
It is said that there are only 362 Chadian doctors, most of them concentrated in the capital, N'Djamena, and less than 40% of the population has access to basic health care. Disparities between local communities and the displaced abound – the 'collateral damage' of humanitarian action. In one location, we were told how aid agencies are providing free vaccinations for the livestock of the displaced. Yet local people have to pay.
We have to address the imbalances - not only because it is inhumane if we do not, but also because differences drive conflict. Competition for natural resources makes the differences even more bitter to swallow. But humanitarian agencies recognise the problem. With DFID support, the UN High Commission for Refugees (UNHCR) provides help to communities around the refugee camps. Again with DFID support, the World Food Programme (WFP) provides help to Chadians affected by the conflict through food for work schemes, when security permits, and to displaced Chadians between harvests. Oxfam facilities supported by DFID in IDP sites are shared with local communities.
Yet some NGOs can be blind to the distinctions between displaced and host populations – which often live in intermingled communities. To them, they are all simply vulnerable people, some with greater needs than others. It takes a sensitive approach to understand the needs exactly, and a deft touch to address them. The distinctions are significant: are the people we are trying to help from the Zaghawa, Massalit or Tama tribes? Are they pastoralists or crop farmers?
The cost of getting the formula wrong is high. I spoke today with a lady driven from her home during an ethnic clash. 'They burnt my house, and they killed my husband, my sons. I have fled once from the fire, and I do not want that again.'