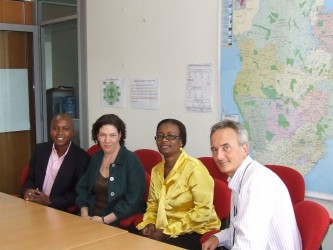 I had a really interesting meeting at the end of last week on how we might increase the participation and voice of civil society in both health and HIV/AIDS policy in Mozambique.  The meeting took place in the DFID office, the air-conditioning was on high, as it is high summer and hot outside, but it was a pretty cool discussion!  The picture shows me with Holo Hachonda, from the Planned Parenthood Association of Zambia, Carolina Pereira, from Forum Mulher (Women's Forum) and Felicity Daly, who is the head of policy and advocacy at Interact Worldwide.
Interact Worldwide are working with a number of partners to try to strengthen the voice of civil society organisations (CSOs) and representatives in policy making. They have a particular focus on making sure that the voice of civil society helps shape funding through the Global Fund to Fight HIV/AIDS, TB and Malaria, making sure that HIV/AIDS funding helps to build comprehensive services to improve sexual and reproductive health - not just to more narrowly defined HIV/AIDS services.
Holo has a really good understanding of some of the ways in which civil society voices have been strengthened in southern Africa - not only in Zambia, where he is based, but in many countries in the region. He recognised the challenge that Mozambique faces - with its relatively short history of CSO development and still fledgling network of non government and civil society organisations. With Mozambique's long war only having ended in 1992, there has not been much time to build up strong networks of effective organisations and local civil society is still to a large extent dependent on international NGOs to provide support and help build capacity.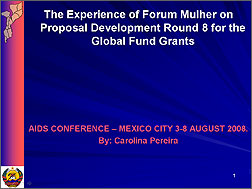 Caroline Pereira of Forum Mulher highlighted some of the frustrations that local NGOs have faced in terms of accessing funding - talking about the recent application made to round 8 of the Global Fund. I have attached a presentation that she gave to the AIDS conference in Mexico City last year, which helps to highlight some of the problems experienced trying to secure financing for local NGOs through the Global Fund. This highlights the need to improve the processes for engaging civil society at the country level.
A key conclusion from our meeting was that we need a much more strategic way of engaging civil society on an on-going basis in Mozambique. At present, there is a real flurry of activity every time there is the launch of a new round of funding from the Global Fund. However, in between these times there is no reliable mechanism for maintaining communication and building real networks to develop on-going strategic engagement of civil society in the development of the national response to the three diseases of HIV/AIDS, TB and malaria.
There is a real opportunity for civil society to have a greater impact in shaping future applications, if the process can be better organised - and it was decided that key stakeholders should convene to identify how civil society can respond to national priorities and organise itself in a way which helps to define and cost the real gaps in the national response to HIV/AIDS. This information needs to be presented to government in a way which reflects and highlights the important role civil society is playing and can continue to play in the national response. NGOs are already doing a lot, but understanding of how they contribute and effective monitoring and recording of what they do is less than ideal - so activities are often not well understood and therefore may not always be fully appreciated by government and other partners.
A date for the brain storming meeting of Mozambican civil society will soon be fixed soon - and I am looking forward to knowing the conclusions. But before then, there will be an important debate on this very challenge of how to best engage civil society at the Inter-ministerial Meeting of the International Health Partnership (IHP)- which meets in Geneva on the 4th and 5th of February. Sue Perez, another important voice for civil society, who works for the Treatment Action Group, will be speaking at that meeting, and it will be interesting to see if the IHP comes up with some clear recommendations.