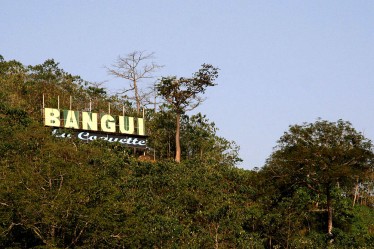 Bangui in the Central African Republic has not got much in common with Hollywood, except the imposing sign on the hill above the city. City? Well, not really. 10 minutes of driving takes you from one edge to the other; it has a cosy, friendly feel; colourful, gently bustling, untidy, with avenues shaded by trees, and long bars of light checkering the market stalls in the evenings. The main street is a bit different; it is wide, very wide, with buildings set far back from its ragged tarmac edge. It is as wide as runway; and that's what it was in olden days, and then they built the town around it, and a new runway further out.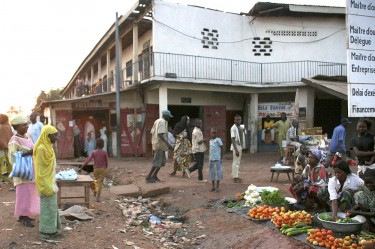 In the heart of the town, it is crowded in the morning; Bangui is on the move, school kids padding along the dusty road, market traders straining with bicycles stacked high with farm produce, the occasional vehicle nosing its way through the throng, and women setting up their stalls on the ground, mounding up their bananas, their vegetables, their eggs. And their baguettes.
The baguette is ubiquitous. Along with the croissant, it is part of the extensive French legacy here. And today, in a long round of meetings, I came across another excellent French contribution; the word 'saussisage'. It means 'the slicing of something into sausage-like sections'. The English language is poorer because we do not have a direct translation.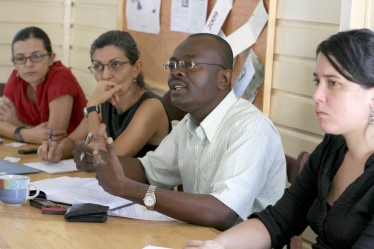 After a lot of meetings, over two days with our many UN and NGO partners, I see I am in the business of saussisage. My job, just now, is to work my way round the mechanism for delivering humanitarian relief in this troubled country. Is the system effective? Are we viewing the problems facing the 200,000 displaced and returnee populations in the conflict-affected north correctly? Is DFID dividing its money to ensure maximum impact between the different aspects of relief – the water, the food, the medical care? In short, I want to know how well are we cutting our sausage.