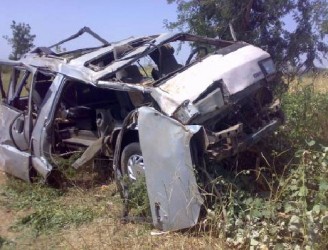 My work as education adviser involves frequent travel around the old northern region, principally to meetings with programme staff and representatives of State Ministries of Education, but whenever possible to schools. Road travel in the north of Nigeria initially seems easy - straight, flat, tarmac roads that allow travel at Western motorway speeds and with no dangers from speed cameras or radar.
However a trip one recent Friday morning to Dutse, in neighbouring Jigawa State graphically illustrated the dangers of driving, even in the daylight on a dry, clear day. The busy road heading east from Kano is scattered with wrecks of vehicles providing clear evidence of the wisdom of getting quickly onto the hard shoulder when tankers and kamikaze minibus drivers attempt insane overtaking manoeuvres.
A recent tragic incident involved a fuel tanker crashing into a military bus convey and exploding. It resulted in over 40 Nigerian peace keepers being burnt to death, en route home from a tour of duty with the UN blue helmets in Darfur. No such drama on this day, but an improbable oxy-acetylene welding job being undertaken on a tanker's rear axle, right in the middle of a busy intersection, hinted at what was possible.
The main road towards Dutse, Jigawa is being slowly upgraded to a duel carriageway as part of a federal election promise. The very low volume of traffic suggests no cost benefit analysis was attempted, given the previous busy single carriageway stretch just driven.
Given the empty, flat, 'straight as an arrow' nature of the highway it was a little surprising to see this morning's accidents. A modern saloon car with a badly mashed front section was askew on the new carriageway, being overtaken by an ox cart laden with crops. Further down the road there was the unusual sign of a police squad slowing down the traffic without having setup a proper roadblock.
Ten metres off the highway was the remains of a severely mangled minibus that must have rolled and tumbled into a thorn tree. The impact of the crash on the driver was graphically on display: his corpse was laid out on the side of the road, his skull completely caved in. A combination of speed, insane driving practices and a bursting tyre had probably combined to prevent this driver living to regret his actions.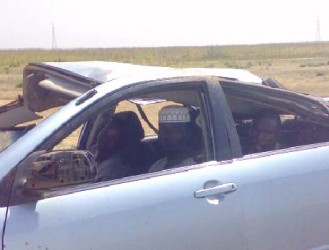 Several hours later on the way back and the road side corpse had gone; burials happen within hours of death according to local Islamic custom. Now just another wrecked minibus alone in the bush waiting to be stripped of parts, prior to being left to rust. Further down the road the damaged saloon car was still present, but now full of 3 boys eating sugar cane and flashing dazzling smiles. They were resting in the shade and probably preventing the car being stripped of parts.