Approaching 2pm on Friday, the next event on the road home was a much more welcome spectacle, Friday prayers. A predominately male crowd surge along the roadside towards the local mosque, most in Hausa robes, with some clasping prayer mats.  Outside the mosques the local community Hizbaa Islamic police provide a useful service on traffic control; without their presence the usual roadside carnage would undoubtedly prevail.  The Hizbaa do not attempt Taliban style enforcement of strict behaviour codes, instead they provide a much more accessible form of justice and security than that provided by the federal and state justice system.
A DFID programme: Security Justice & Growth has been working with the Hizbaa and other community policing initiatives around the country and its success has led to a follow-on programme being proposed and exchange visits organized with the Sudanese police force, keen to see community policing in action.
The DFID education programme ESSPIN in Nigeria will also support predominately Northern Islamic states to take parallel steps with Islamic schools, building on the community demand for religious education and combine it with the core secular curriculum subjects. This should provide a rounded education acceptable to more traditional communities which have been suspicious of 'Western education' amongst other modern practices such as vaccination.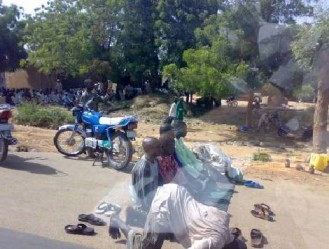 Inevitably, at one of the roadside mosques the road completely grinds to a halt for 20 minutes and the trucks and minibuses stop on the carriageway.  Miraculously the drivers who in the cab appear to have a death wish, are transformed into pious devotees as lines of men, youths and boys bow and pray in the direction of Mecca, often on the tarmac next to their cab.  Peace and calm descend for a few precious moments of religious contemplation, then everyone jumps back aboard and speed off in a cloud of diesel smog, on the way home, in-shallah...