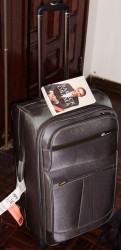 I packed Barack Obama's autobiography 'The audacity of hope' for a trip from Maputo to Geneva which I made this last week. What a great read! I am a bit of a nervous flyer - sweaty palms as soon as we hit a bit of turbulence, you probably know the type - but I managed to loose myself in this inspiring book.
The book gave me the audacity to hope that even in these times of economic crisis something really positive would come out of the International Health Partnership meeting I was going to in Geneva. I wasn't disappointed. I joined Minister Garrido, the Minister of Health of Mozambique, in a number of important meetings which I hope will pay dividends for Mozambique in terms of securing additional funds to support Mozambique's national health plan.
DFID's Minister, Ivan Lewis, met with Minister Garrido and highlighted the UK's commitment to support Mozambique, announcing that DFID funds have increased from £16.4 million from 2007-2011 to £38.4m up until 2012. These extra funds will go straight in to the Ministry of Health's budget and we will be monitoring the impact of the funding by tracking Mozambique's success in increasing the numbers of doctors, nurses and other health workers. But beyond this DFID support, I think we can still hope for a lot more.