I was fortunate enough to be attending the annual DFID Education Advisors get together in early March.  This year Chennai (formerly Madras), India had been chosen as the venue, to allow us all to get a first hand view of a very special learning method that has been introduced to most primary schools in Tamil Nadu State.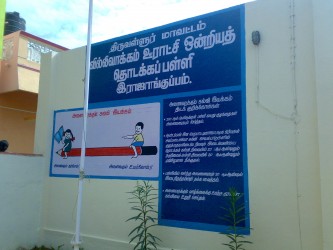 Activity Based Learning (ABL) has its roots in the Rishi Valley Rural Education Centre that was established 50 years ago by Indian educators, who went on to devise creative methods in teaching and innovative learning materials.  In 2003 the approach was been taken up and trialled by the State Department of Education in a few Chennai school. Since 2007 ABL has been rapidly scaled up and is now practised in all of the 37,500 government / government-aided primary schools of Tamil Nadu; a State with a population of 62 million that exceeds that of the entire UK!  DFID has contributed to this process through its financial support to the Indian Government's Sarva Shiksha Abhiyan (SSA) program that promotes universal access to elementary education and which has underwritten over 95% of the costs of introducing ABL in Tamil Nadu.
Walking into the first of five ABL schools I visited I was struck by the sense of order and the well maintained compound; it felt a long way both in distance and operation from the schools I often visit in Northern Nigeria.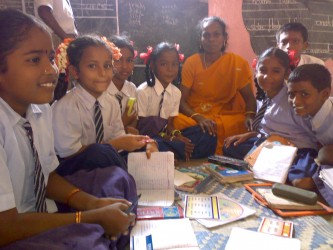 'He who would search for pearls must dive deep' was the proverb chalked up by the entrance to Rajankuppam School in Thiruvallar District.
Inside the classroom the difference was immense. Children of all ages from 5 – 9 years (equivalent to the first 4 grades) sat in mixed groups on reed mats on the floor, totally absorbed in activities they were following from work sheets.  The classroom was like an Aladdin's Cave of learning, with the walls and ceiling (using a grid of wire) displaying the students' work and imaginative home made posters and displays.
Chalkboards, some the shape of animals lined the lower sections of the walls, allowing the children (not the teacher) to practise writing and attempting exercises.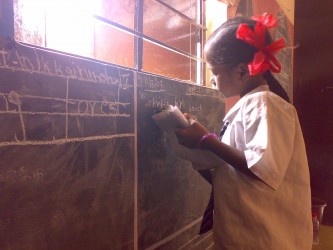 As a child finished an assignment they would seek the teacher's feedback, then move on to the next exercise that was identified using a colourful 'ladder' wall-chart that allowed the student to progress at his or her own pace.  The teachers, dedicated women clad in colourful saris, had merely to guide;- there was little need for lecturing and discipline given the children's enthusiasm and interest in the friendly stimulating environment.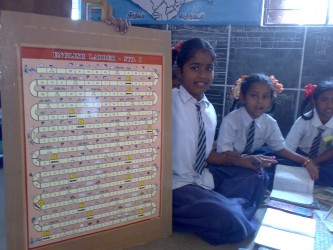 I quickly joined in and helped children to use an Abacus and listened to them read in both their native Tamil language and English. With an older group of students I discussed the environment and the harmful effects of pollution.  I was able to watch students perform songs, rôle play and shadow puppet shows that developed cultural skills and acquire language.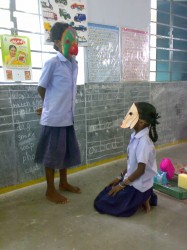 There was no doubt in my mid that ABL had made a big difference in motivating children to both attend school and to help them learn.  In some schools there had been initial parental scepticism about the radical changes being made, but this was quickly dispelled when the positive impact upon the children became evident. Village Education Committee's have also been instrumental in the ABL transformation process, supporting the schools with funds and material support.
Returning to Nigeria, I reflect on whether such a major change in school practise could be introduced in poorer African countries. Shortages of resources and funding would certainly be a challenge, but just as difficult would be the institutional changes needed to build capacity and motivate teachers to adopt such a new approach.
Hopefully with 'deep diving' at least some 'pearls' from ABL can be adapted and introduced in other parts of India and spread further in other developing countries around the world.