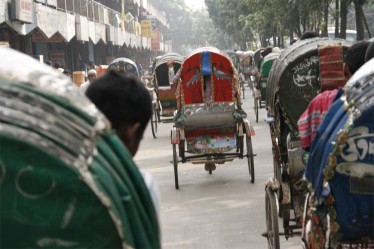 I have been in Dhaka six months now – working for DFID Bangladesh as an economist - and one of the first things I noticed was the traffic. Previously I lived in Sierra Leone for two years, but compared to the standard of driving and volume of traffic here, Freetown is like a quiet British country lane in winter. I dodge the traffic and cycle to work. Weaving in and out of rickshaws, cars with drivers leaning on their horns (and an occasional cow) gives me a nice adrenaline rush to start and end the day with. I took the attached photo whilst riding through a sea of rickshaws in the downtown traffic. Amazingly though I am yet to see an accident. Somehow the whole frantic system hangs together (it is a different story on the rural highways of the country).
This sense of disarray frequently extends to politics, perhaps unsurprising in a developing country of nearly 150 million citizens squeezed into a small piece of land on the Bay of Bengal. The recent history of Bangladesh is one of democratic governments interspersed with military coups and caretaker administrations. And yet at the same time the people have achieved major gains in industry, health, education and other measures of development, outstripping many of the countries that DFID works in.
The country held peaceful, free and fair elections in December, which brought to power Sheikh Hasina's Awami League; no small achievement in itself following as it did two years of a caretaker government and before that major civil unrest. Yet last month there was a massacre in a faction of the army that guards the nation's borders, which you may have read about in the British press. Bangladesh is currently in a period of mourning for the more than 50 army officers who were gunned down, together with a number of civilians. Many of our local colleagues have friends or family affected, and it has been a sombre time of security restrictions and condolences.
The newly elected Government is generally agreed to have responded well to the crisis so far. The hope now is that Bangladesh continues its impressive trend, like the motorists on Dhaka's busy streets, of shrugging off the chaos and moving forwards.