On Saturday morning, I was pleased to leave behind the office buildings where I'd spent the week, as I drove out to visit the biggest outdoor market in Harare in the downtown high-density suburb called Mbare. Here were row after row of shaded stalls covering several hundred square metres, mainly selling vegetables and groceries, where I hoped to collect some information about food prices and availability.
Capital cities are invariably well supplied with food even in disasters in my experience, and here Harare was no exception. As I walked in from one entrance, the stalls were piled high with vegetables – just as they had been in my last visit to this market in December. It seemed difficult to relate this image of plenty with the reports I'd read of people so hungry that they were eating wild roots and worms.
The type of vegetables though had changed – gone were the cabbages and potatoes, replaced by tomatoes, peppers, okra, bananas, squashes and many types of leafy greens offered for sale, as well as peanut (ground nuts) – I could see that the main vegetable harvest season was coming into full swing.
Prices now though were very different – the sums of multi-billion Zimbabwe dollars (see this Wikipedia page for a photo of a $100 billion note) for a kilo of veg. had been replaced by prices in US $. Everything now seemed to be priced the same, at $1. That seemed odd at first, until I realised that there was no change in the country, at least no US coins. The smallest US currency unit available was $1 – so everything was parcelled up in different quantities that could be priced for $1.
A couple of barrow boys were leaning against a column of full tomato crates as tall as they were 1.8m. I struck up a conversation, as they tried to engage me in business. Did I need them to carry crates to my car, or follow me around and carry my purchases, they asked? No, but how had their day been so far? What were their charges? Who did they work for? It was a halting conversation, as their English was quite basic. I wasn't really sure I'd understood everything they'd told me by the time we'd finished talking, but I did understood that they charged a dollar for their services, but hadn't had any business all morning.
I walked further on deeper into the market. Now some stalls were selling electrical spare parts (fuses, sockets, light switches and bulb holders), pirated DVDs with their faded photo copied sleeves, and some locally made school uniforms for the start of the new school year. There were also huge Hessian sacks filled with tiny dried fish, less than 1 inch (2 cm) long called kapenta or the "Tanganyika sardine", which is a great source of protein and easily stored. See this photo of a typical Zimbabwean meal made up of sadza (a stiff porridge made of ground maize meal), leafy greens and a serving of kapenta.

But now, what were these? Dried caterpillars! By the sackful! Here were Hessian sacks piled full of black dried caterpillars. I found out that they are called Mopane worms as they live on the mopani tree, eating its leaves until passing through the chrysalis stage to turn into the Emperor moth, one of the world's largest moths. I'd heard about people eating these 'worms' earlier in the year…from a news article I'd come across from the San Francisco Chronicle: "Harare, Zimbabwe—You can sip a cappuccino and snack on a wedge of cheesecake at a trendy Harare cafe while starving women in the Zimbabwean countryside eat worms scavenged from rotting fruit."

Like many stories though, things aren't always what they seem. Rather than being a sign of starvation, Mopani worms are an important resource for rural communities in the southern forested parts of Zimbabwe where the Mopani tree grows: "Originally, the mopane worm used to be an important food source for the rural communities occurring within the range of mopane woodland, but it is now widely eaten across southern Africa where it has become and important trading commodity". Mopane worm utilisation and rural livelihoods in Southern Africa, the Centre for International Forestry Research (CIFOR) Some data collected by a researcher on Mopani worms in 1994 in South Africa, estimated that the business of collecting and processing them was worth over $50 million then…
I've since learned of a DFID-funded effort titled the 'Mopane woodlands and the mopane worm: enhancing rural livelihoods and resource sustainability' project. The photos above are from that web page.
So, I bought a small packet of them for $2, about 2 ounces (50 grams) and put them in my bag. I liked the clear cellophane packet – it seemed to display them well for curious members of my family and my team members back in London… but I wasn't sure that I was going to actually taste them.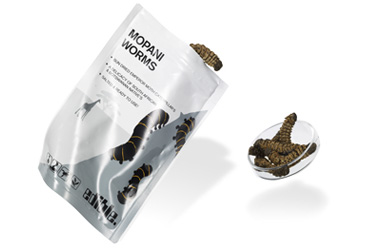 That evening, when I got back to my room, I did a quick web search on these worms, and was surprised to find that they are being sold at a shop in London! "Their protein content is three times that of beef, weight for weight, and they are traditionally cooked in a stew containing tomatoes and onions". At £10.95 for 40 grams, I'd bagged a bargain.
I had a cold drink and reviewed my days' photos on the camera in a café in the smart shopping mall in the centre of Harare where life seemed far removed fom the dusty, bustling market on the outskirts. As I was walking back to place where I'd parked the car, past the fast food cafes and the Meikles hotel, I was told by a woman passing me by – "your bag pocket's open". I turned round and looked at my bag, and saw that my camera had been stolen.