Many things are taken for granted in the developed world, but I think that clean water must be at the top of the list. One of my little luxuries when I get back to the UK after a few months overseas is putting my toothbrush under a running tap; I have to use bottled water here because the quality of what comes through the pipes is so poor.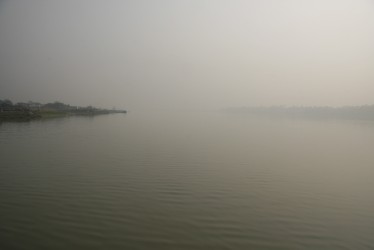 The situation in much of Bangladesh of course leaves that anecdote looking flimsy. For a land of rivers it is notable that fewer than 40 percent of people have access to safe drinking water, due in part to a lack of resources, planning and coordination. Three further factors however also weigh heavily: the water table is dropping under heavy population pressure; poisoning of supplies by arsenic present in the soil is a slow-ticking health disaster; and rising sea levels are encroaching on the south and turning many aquifers saline and undrinkable.
In this context I've spent the last couple of weeks leading a review of a significant piece of our support to water, sanitation and hygiene (WASH) here in Bangladesh: the SHEWA-B programme. The first of these, water, is most commonly the focus of donor programmes: building safe water wells is a quick way to help people. But decent waste disposal and education on hygienic practices - as simple a thing as washing hands - are vital as part of a comprehensive programme to reduce the incidence of disease and improve environmental quality.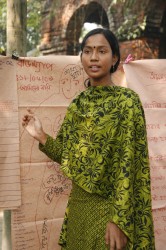 Myself and two of the team visited Narail District in the south west of the country. In Kalia municipality we met Kurshida (pictured, in green), a young woman who - under the tuition of Community Hygiene Promoters paid for by the programme - had become a community leader in discussing both hygiene behaviours and the water and sanitation needs of those living in the slum. Kurshida spoke with real passion to the gathered women about the health benefits of improved WASH. As an immediate practical benefit, the community had asked government engineers to move a  water-point from a position inaccessible for much of the day; they proudly demonstrated how easy it now was to get clean and safe water when they wanted it.
Millions of people are benefiting in a similar way under the programme. Equally importantly for the long-run, central government and local councils are heavily involved in planning, spending, implementing and accounting for results. We hope that, over time, the sector will be increasingly coordinated and led by national actors. This combination - immediate results and long-run sustainability - is ideally how we want all our programmes to operate.