The DFID office in Mozambique is quiet now, with many people already on leave. However, we still have a couple of important meetings before the end of the year, discussing financial management and planning for the annual review of the health sector early in 2010, so I am back and forth between the DFID office and the Ministry of Health, which is just a 10 minute ride away.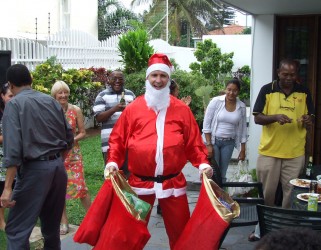 The DFID team has already had its end of year party, which was held at our Head of Office, Keith Mackiggan's house. We all had to either mime or give a short description of a colleague, who would then receive a gift if they were correctly identified. It was an amusing and revealing game, and I think we are a stronger team as a result of the laughter! We are now all primed and anxious to begin what we hope will be a productive and peaceful new year doing our best to make things happen for development in Mozambique.
I couldn't resist sharing these three festive season cards that DFID has selected as e-CARDS to send out this year...see below.
Part of DFID's efforts to become a greener organisation and support action on climate change include doing away with traditional cards and sending out our seasons greetings as e-cards.
The pictures for this year's cards were selected by Secretary of State Douglas Alexander from designs produced by children as part of the Global School Partnership Programme.
The winning card, a fantastic picture of peace doves, was designed by Hammad Rasheed, aged 15, from Faisalabad, Pakistan. The two runners up, with equally lovely winter scene designs were Fathima Faruza Aswer, aged 10 from Kandy in Sri Lanka and Lucy Pobjoy, aged 5 from Gloucestershire in England.
I wish you all the best for 2010.