In March this year, it will be two years since DFID took on the focal partner role for health in Mozambique, and it will be time for the UK to hand over the baton to the Netherlands. The handover process normally happens at the end of the big annual policy discussion with the Minister of Health, which will be held on the 11th of March.
Marco Gerritsen will take over from me as the focal partner. Marco is already well connected in Mozambique, having worked here in the Ministry of Health a number of years ago and he is well remembered by many people within the Ministry. Marco also brings to Mozambique huge relevant experience for the task in hand, having worked in Zambia on their Sector Wide Approach (SWAp) and more recently based in the Netherlands as a health and HIV/AIDS adviser, developing a tool for evaluating health sector performance.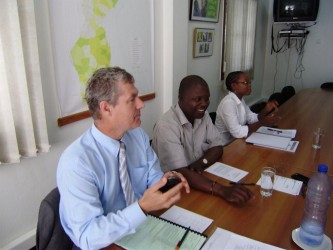 Here is a picture of Marco, at last week's meeting of the Monitoring and Evaluation working group. Next to him is Jonas Chambule of Irish Aid, and beyond Jonas is Etelvina Mahanjane, the coordinator of the health partners group who I blogged about earlier this week.
I first met Marco in Brussels, when I was working for the European Commission in the Directorate General for Development. Marco was then representing the Netherlands in the European Union Member State meetings on health. So, we have previously shared a Belgian beer following an intensive day of discussion on the European Programme and the European Strategy for Action on the Health Workforce.
DFID will continue to be the vice-focal partner, which will help to ensure that the institutional knowledge and relationships built up over the last couple of years are used to help support the Netherlands in the focal partner role.