We've had a bit of a blogging hiatus given the pre-election period in the UK, but it's nice to be back online! Things with Nepal's peace process have gone up and down since I last blogged, but unfortunately I don't really have much positive progress to report.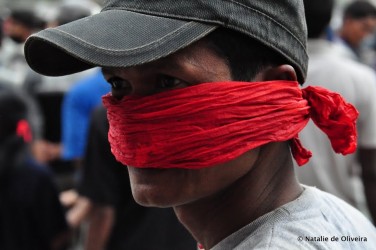 Last week was a week of strikes and general shut down here. Following huge May Day parades on 1 May when the Maoist party bussed in an estimated 100,000 activists for a day of celebrations and demonstrations, the Maoists imposed a 5 day strike, or bandh, as it is known here.
This means that no schools, shops, businesses or government offices were allowed to open. No motorised vehicles were allowed on the streets – so no cars, buses or motorbikes, but bicycles, ambulances, tourist buses and diplomatic vehicles were allowed. Hospitals and health clinics could open, and embassies and international agencies were allowed to open, assuming that staff could get to work. Not surprisingly, many hospitals and health clinics were virtually shut or offering very limited service.
All DFID Nepal UK staff live close to the office so could get in by bike or walking – no excuses! But many local staff live too far away to be able to even try. Nevertheless, some local staff showed exceptional dedication by cycling or walking over two hours to get to work – very impressive!
We'd stocked up with food and bottled water, so were well prepared as were most Nepalis, but our daughter's school was closed and our son couldn't get to his playschool, so along with everything else we had two bored children on our hands!
With an estimated 50,000 Maoist cadres on the streets and masses of Nepal police drafted in, things were pretty tense at times. Although the bandh was primarily peaceful, with admirable restraint shown on both sides, there was still sporadic violence and people were hurt. An estimated 6 Maoists died from various causes.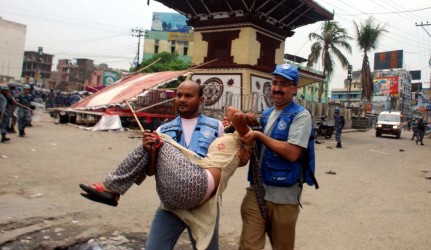 Businesses were badly affected as both staff and customers stayed away, and farmers threw vegetables away as they could not get them to market to sell. Children missed their school exams, and tourists must have been pretty bored as they couldn't do anything but wander around pretty empty streets!
I ventured out across Kathmandu at the beginning of the 5 day strike to pick up a friend's daughter from her lodgings in town so we could help her get to the airport (which we finally did in a UN convoy that was luckily going anyway). It was very interesting. It was at night, just after the Maoist torchlight procession had finished, and there were still large groups of Maoists (mostly young men) wandering round, a few bollards kicked over and some burning tires (I think) in the roads.
But although I felt quite uncomfortable and a bit nervous, the crowds parted to let us – clearly expats – through, and some of the protesters waved at us in a very friendly manner. Quite at odds with the tension we were feeling inside!
The Maoists lifted their bandh last week. My daughter is now back at school and all staff are now back in the office. Things are back to normal. The political parties are still discussing around a possible agreement, but despite optimism by political party members that I speak to, we still have no agreement. Meanwhile the Maoists have vowed to return to the streets on 25 May if there is no progress. Time for the people of Nepal really does seem to be running out…