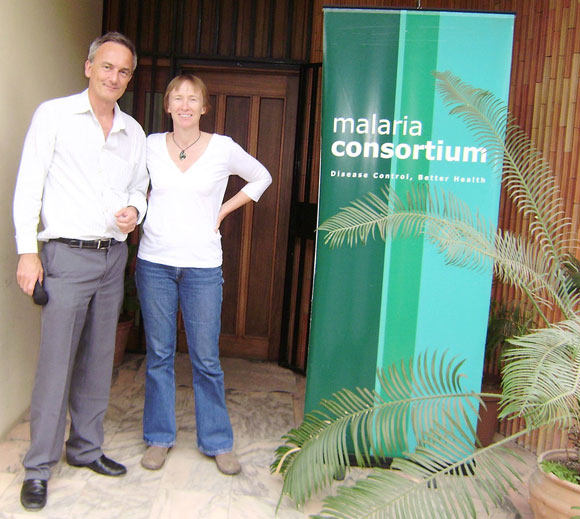 As mentioned in my last blog, which announced the launch of the DFID consultation on Malaria (Malaria: breaking the cycle), I went to see Kate Brownlow, the country director of the Malaria Consortium at the end of last week. I got Kate to pose with me outside their office, as you can see here on the right. I also attach a link here to a previous Blog, where I have mentioned Kate.
I always like going to the Malaria Consortium office, as it is just two doors away from the house I used to live in when I first moved to Maputo. The office is situated on a quiet tree lined road, which at this time of year has flowering acacias and jacarandas and is really quite picturesque. Many of the street names in Maputo are of interest as they are named after historic figures, Kenneth Kaunda and Mao Tse-tung for example. The Malaria Consortium office is situated on Rua Antonio Jose de Almeida, who you can read more about on this wikipedia link – he was the founder of both the University of Lisbon and the University of Porto.
We had a useful meeting, discussing some of the challenges there will be in ensuring that the recently confirmed Global Fund Round 9 funding for malaria is programmed quickly and flows smoothly in order to effectively support national efforts to tackle malaria. Whilst everyone celebrated Mozambique's success in securing the Round 9 Global Fund grant, there are a number of steps to go through before that money will begin to flow. The Ministry of Health and its partners are working intensively to get the grant started, with many lives dependent on the programmes that will be funded.