It has been quite a while since my last blog. My excuse is that I was acting as head of DFID Mozambique for a couple of months. However Keith Mackiggan, the head of office is back, so no more excuses and it's good to be back blogging!
Recently DFID launched a consultation on its draft Malaria business plan (Malaria: breaking the cycle). Malaria is a disease of huge importance here in Mozambique with around five million infections each year, which caused 17% of deaths in under five-year-olds in 2008. With 138 out of every 1000 children in Mozambique still dying before their fifth birthday, tackling malaria is a huge priority.
The fight against malaria is one that DFID has been supporting through funding to the Ministry of Health as well as through a project with the Malaria Consortium. Progress is already being seen, with 37% of households having at least one bed net. Things are also looking positive in terms of the future, the efforts made to secure money from the Global Fund were successful, which will fund a substantial part of the malaria needs over the next five years.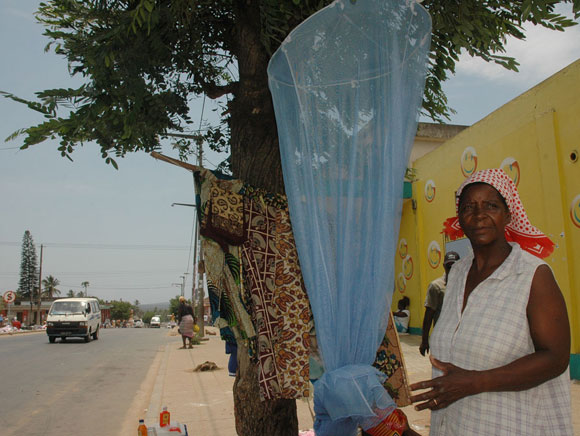 In addition to supporting a massive distribution of free bed nets to mothers and children, the Malaria Consortium has been helping to develop a network of bed net vendors. These vendors are building recognition and tapping into the demand for bed nets as people increasingly appreciate the importance of nets for preventing malaria illness and death.
An increasing sight on street corners and in markets is blue, white or green nets blowing in the breeze. I have attached pictures above, one of a bed net vendor in Nampula and a lady selling bed nets in Morrumbene. A side benefit of bed nets is the income it provides for an increasing number of market vendors. DFID has been providing a subsidy for the sale of these nets which is stimulating demand for long lasting insecticide treated bed nets. Although more expensive than other nets which have to be regularly dipped in insecticide, the impregnated nets are more effective, lasting up to five years and are therefore better value for money.
I am off to meet Kate Brownlow now, who is the director of the Malaria Consortium's programme in Mozambique and based here in Maputo – so expect a futher update on malaria soon…