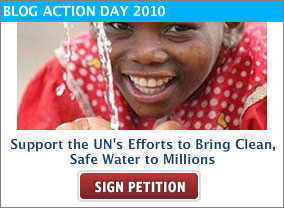 I love a good cause, and the theme of Blog Action Day today is about as good as they get: water. Water is a hugely important issue globally and particularly for developing countries such as Mozambique where shortages of clean water are a daily problem, and yet where floods also bring devastation and disease.
I find it virtually impossible to say the word water (except when asking for a glass in a restaurant!) without adding sanitation and hygiene, since these three words are inextricably linked in terms of health promotion and protection. I have highlighted in a previous blog some of the efforts being made in Mozambique to improve access to water and improve sanitation and hygiene, but  huge challenges remain.
Only 29% of the rural population in Mozambique have access to clean water from an improved water source (a bore hole or protected well). Government plans are to increase this to 38% by 2015, which will mean an additional 1.9 million people having access to clean water - but millions of others will have to wait longer for an improved water source.
However, the cost of improving water and sanitation in Mozambique is not insurmountable. It has been estimated that to meet the Millennium Development Goal for rural water in Mozamique, annual investment would need to increase from the current level of $25 million per year to $40 million per year (an additional $15 million per year). An additional $18 million per year would be required to meet the sanitation MDG target.
The problem of lack of clean water in Mozambique is significantly compounded by a lack of sanitation, with only 4% of the rural population having access to some form of improved sanitation. Although nearly 40,000 latrines were constructed in 2008, serving 200,000 people, the rural population grew by 280,000 that year, resulting in no net improvement in access to sanitation. The issue of sanitation has been dealt with in a very clear and uncompromising way by Fiona Godlee in a recent British Medical Journal editorial entitled 'Let's talk Shit' and it is this straight talking approach employed by the total sanitation movement which may begin to turn the tide in Mozambique. With total sanitation being a key part of the Mozambique's recently launched national strategy for rural water and sanitation.
Efforts to improve access to clean water and sanitation are also being pushed up the political agenda with celebrity support, and both Matt Damon and Leonardo DiCaprio are strong supporters of the water cause. But Mozambique has its own celebrity champion for the cause, with the hugely popular Mozambican singer and activist Feliciano dos Santos being a real champion for improving hygiene through his songs and lyrics. I have attached here a link to a great CNN video clip, which has some great pictures highlighting some of the issues facing Mozambique.
Read more water stories this Blog Action Day from our friends at the Foreign Office