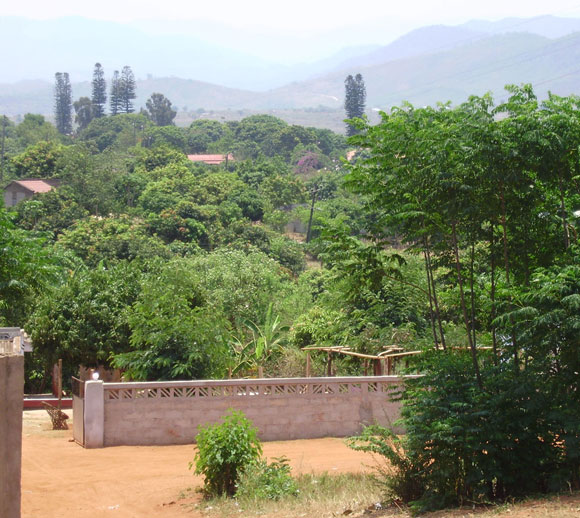 I have just returned from a three day visit to Manica province, which is an hour and a half flight north of Maputo in the centre of Mozambique, bordering Zimbabwe. The capital of the province is in the city of Chomoio, which is a bustling town with tree lined streets and with a small airport just a few miles outside the city.
The province, which has a population of about 1.4 million, is made up of nine districts and the municipality of Chomoio. I managed to visit two districts,  Sussundenga and Manica. I have posted a picture here of the view from Manica District hospital, as it gives a feel for the lush green and hilly landscape.
My visit was organised by the Malaria Consortium (who I have posted a blog on previously – here). I was accompanied by Dr Celso Varinde who works for the consortium, and Sylvia Pedra, a biologist and malaria expert who is responsible for the province's malaria programme. Celso was a great person to travel with as he has a deep understanding of health service delivery in Mozambique, having been the provincial director of health in Cabo Delgado province from 2001-2005.
The visit started with a trip to the provincial government where I met with the new director of provincial health services, Dr. Juvinald Amos, who is an enthusiastic supporter of national efforts to reduce the burden of malaria.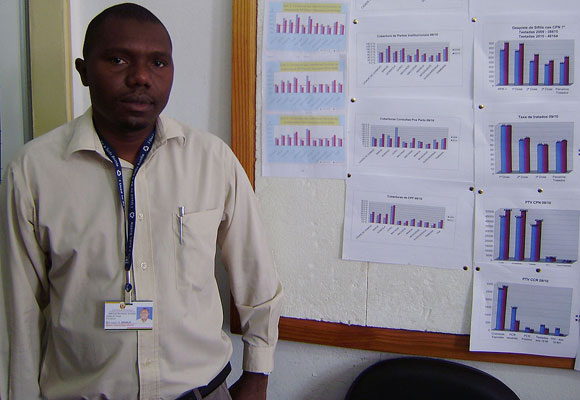 I also met with Dr. Ben Zavale, the director of health programmes, and have posted a picture of Ben in front of some of the charts which line his office, showing the progress Manica has made improving health.
Over the next few days I will post a couple more blogs on aspects of health service delivery in Manica. Illustrating the state of health, how Manica compares with the rest of Mozambique and highlighting some of the challenges that the province faces in trying to improve access to services.