Working in various developing countries for a long time (I've been overseas now for around 15 years) sometimes gives me first hand evidence of how initiatives can grow and adapt over time – and often for the best.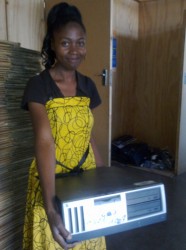 Ten years ago I was working in the Ministry of Education in The Gambia and a VSO volunteer colleague was ripping his hair out in frustration. He had just returned from the docks where a consignment of old computers 'donated' for African schools had arrived. Most were complete junk unsuitable even to cannibalize for parts. At best the stuff could end up in a backstreet African dump, which creates toxic hazards as the plastics are burnt off to salvage various components, wire or your bank details left on the hard disk!
An initiative originating from the World Bank, called World Links, was supporting the establishment of secondary school computer classrooms, but even to get this working in 15 Gambian senior secondary schools was a real headache. Telephones hardly worked and the mains power came on so rarely that expensive solar solutions or generator sets were being proposed, which doubled the overall costs.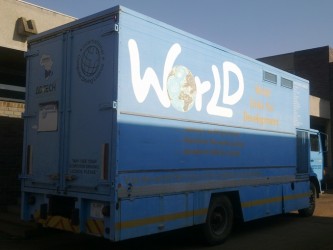 A decade has passed and the World Links project finished in 2004. However the concept has evolved into an innovative and independent set of country units. These units work to provide schools in developing countries with capacity building in school ICT and self-sustaining computer labs. I came across World Links Zimbabwe Trust (WLZT) when my office in Harare wanted to clear out its old desktop computers and I contacted the Director, Mr. Eli Gudza.
A professional proposal was quickly presented to use the equipment for a computer lab in a poor neighbourhood on the edge of Harare. The next day the equipment was taken away for testing, refurbishment and installation of free software, courtesy of major vendors. Intrigued, I visited WLZT's office and workshops situated in the grounds of the University of Zimbabwe complex. Outside was parked the huge 'Big Blue' mobile IT classroom truck, that tours the country complete with its own generator to provide computer training in rural schools.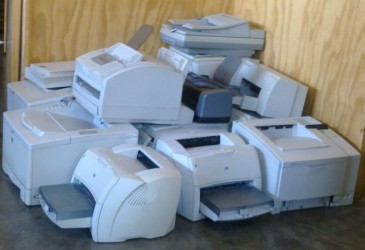 Inside the workshop I was greeted by the friendly and enthusiastic team of technicians - Gladman, Ephraim and Sipho - who were busy at work on the equipment. Stacks of second-hand computers, screens and printers filled the rooms – a virtual Aladdin's cave.
The printer graveyard was striking. Most inkjet models are worthless as the cost of replacement cartridges are prohibitive. Flat screens also raised a grumble as they have a much shorter life span than the big clunky cathode ray tube units. Computers donated from both the EU Delegation and DFID country offices were pointed out, other computers come in bulk from Europe, in what is clearly a growth industry.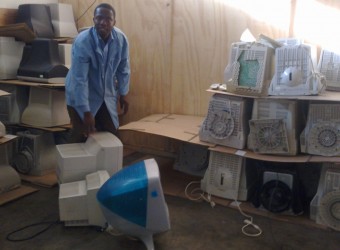 Organisations based in the UK and Brussels such as Computers 4 Africa, Close the Gap and I.T. Schools Africa have emerged in the last few years. Schemes vary but the model is to collect domestic and corporate computers that become obsolete as people upgrade every 3 - 4 years. Check they work, scrub off any data and ship to a partner in Africa such as WLZT.
Already WLZT have established 45 school and community based dual-purpose 'tele-centres'. These centres are open to students and teachers during normal school hours, and the community after hours and during weekend. The Computers for Zimbabwean Schools Trust initiative makes sure the donated computers are past on 'at cost' to schools: around $150 for a more recent dual core PC with flat screen or as little as $30 for an older Pentium IV model. These prices are very competitive, even in comparison to recent global initiatives such as 'One Laptop per Child' that aim for a mass produced, stripped down low cost computer.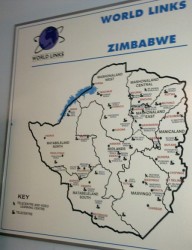 It will be interesting to see what direction global trends go with these initiatives to bridge the digital divide. The last decade has seen enormous progress but financial constraints, among others, remain. In Zimbabwe our recent focus has been trying to provide 'textbooks for all' at unit costs of around $1 per child and many other needs compete. Currently plans are being made for large volumes of textbooks to be given to secondary school students, using cost savings from the primary textbook procurement.
Lack of power, and low cost internet access and software are also serious obstacles as the WLZT staff described to me: while the computers may be one tenth of a new model, a monthly internet connection is roughly ten times the price in digitally connected Europe.
Without internet all those free web based e-learning tools and content are still in effect unavailable. Perhaps free content on a CD which can then be pre-loaded onto the computers arriving in Africa could be another way to promote learning.