Sitting down for dinner in the Bulawayo Club (est. 1895) in southern Zimbabwe, one feels that one has been transported back to a gentlemen's club in fin de siècle Mayfair. One is immersed amongst Greek colonnades, oil portraits of colonial expeditions and the cult of Cecil Rhodes; of how this 'wild west' was won for a proverbial handful of beads in the 1890s and Rhodesia was born.
The colonial history may be long past, but the Ndebele people still raise cattle in the dry ranch-land surrounding Bulawayo. I went to visit a school around 30km from town, which was established six years ago on a former commercial cattle farm in Matabeleland North. There wasn't much evidence of either farming or learning going on as we approached - life was clearly a struggle for the people who resettled here over a decade ago.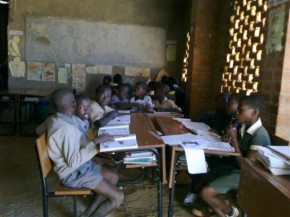 Tsetse 'satellite' (ie not fully autonomous) primary school has a peculiar and multiplying set of disadvantages - not one child passed the end of primary Grade 7 examinations in 2010, despite the school having a large surplus of new textbooks, supplied via the UNICEF managed Education Transition Fund programme which is funded by the EU, DFID and ten other donors. Problems include:
Location in an old dilapidated farm yard and cow sheds: classes have to double up (two grades per room) in unsanitary buildings with only brick lattice spacing for light and ventilation; the pre-school is an open air barn.
The 'mother school' is 40km away, with no easy access and little contact or support.
De-motivated teachers commute in 25km from Bulawayo daily.
No pre-school teacher present: her students were playing under a tree. Her salary of $50 per month has not been paid for over two months.

Reading in the gloom

Hardly any parents (1 in 10) can afford the levies ($45 a year) that should pay for the pre-school teacher and improve the school.
The examination board will not allow the school to be used for exams due to space/light limitations. This forces students to travel and cover costs for two weeks of exams at another location. Some failed to sit;

no one passed four subjects

.
The nearby secondary school is boys only; almost all girls dropout after primary school, as the nearest girls secondary is 20km away.
Despite the obvious poverty, the community is active and a new school site is marked out half a kilometre away, with toilets, a borehole and water hand-pump, a garden fence and piles of sand and bricks for future construction. Lack of money has so far prevented construction and relocation to the new site.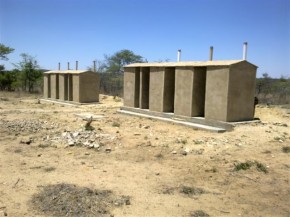 Textbooks alone cannot solve Tsetse's problems. Starting next year we hope that the Education Transition Fund will be able to support a programme of cash grants to facilitate schools such as this to plan and implement improvements. Zimbabwe's school staff and parents clearly have the capacity to do so, if only the funding can be made available.