I will not change the world, I will not save a life and I will almost definitely get Delhi Belly... several times. These are the first three things I learned whilst on my ICS training weekend. Not the most inspiring phrases, yet I could not be more excited to go to India for three months. This from a girl who has had a life-long dislike of all things curried.
In August, two days before I was set to leave for a month-long trip to Tanzania, I stumbled across the International Citizen Service page on DFID's website. As an extremely recent graduate dreading the endless job applications and near inevitable unemployment, the thought of leaving England behind for a further three months and volunteering abroad was very appealing. So, whilst procrastinating from packing for Tanzania, I spent the day researching which organisation I wanted to work with.
During university I had attended a talk by Restless Development about their work with the youth of the developing world. Their efforts in HIV prevention and awareness, along with their commitment to engage young people in civic participation impressed and intrigued me.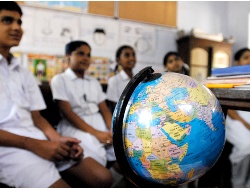 Having spent three years studying theology and politics, with an emphasis on international development, I recognised the importance of the work Restless were doing across the world. At the time, I had thought about signing up to volunteer with them, but being a student with final exams, I promptly forgot about it.
After seeing their name on the list of ICS partner organisations, I knew this was the perfect trip for me. So, with a mere four hours before leaving for the airport, I sent off my application.
Since that day, things have moved at what feels like a whirlwind speed. I found out whilst in Tanzania that I had been invited to an interview and assessment which would take place two days after arriving back in England. A week after that I was accepted onto the trip, and a further week later I was told that I would be working in India. Now, with less than two weeks to go, that thing I applied for on something of a whim, is a reality: jabs administered, anti-malaria pills bought and a dozen books loaded onto the Kindle.
Going back to my original statements, I would like to think that I am not going into this trip blind. Having volunteered in Uganda twice before and travelled to developing nations, I am aware that the expectations of what can be achieved in three months are relatively low. At the moment, all I know is that I will be working in civic participation and employability - the finer details will not be known until I arrive in country.
I may not save the world or even a life, but either way I am happy to spend three months of my life being a part of something that, however small, will go some way in creating change in the developing world. And, who knows, I may well develop a taste for curry.