One week left in Ouagadougou - a city that will remain close to my heart for years to come - and our workload appears to have tripled.
Before I began my project with Tigoung Nonma, a co-operative dedicated to helping artisans with disabilities, I never expected to find the work quite so challenging. During our first few weeks at Tigoung Nonma we decided on the factors limiting the growth of the co-operative and set our objectives based on our results. Being ambitious young people, eager to help our partner organisation, we set ourselves challenging objectives. We decided to do the following:
create a new catalogue (available in French and English);
set up online fundraising pages and marketing pages via social media;
create and print new leaflets, posters and a banner for any exhibition outlets;
host a disability awareness event, getting as many local non-governmental organisations, ministers and Burkinabe people to attend as possible; and
re-open 'the Kiosk'
We had discovered that Tigoung Nonma's leading source of income had been their Kiosk - a small shack outside the office that until 2011 had sold food and drink. The business had been badly run and as a result had been closed a few months before our arrival. We set ourselves the task of re-decorating and creating a new business plan in order to re-open this valuable source of revenue.

We re-decorated the kiosk in January, before it was re-opened, complete with new business plan, at the beginning of March. I am delighted to report that there is now a daily stream of customers and four young Burkinabe women now have work. To date, we have also fundraised about £2500. This has been the result of overwhelming generosity from family, friends and a small Durham University college.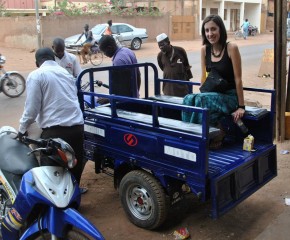 This week we will use £1500 of the money raised to purchase a brand new transport vehicle for the co-operative. The vehicle will allow the Tigoung Nonma team to pick up the products of each artisan from their homes, on the outskirts of the capital, therefore saving each member both money and time.
The vehicle will also be used to transport products to and from the airport and exhibitions, again saving money and preventing product damage.
I feel extremely proud that we have also managed to create a 76-page A4 catalogue and a 23-page A5 catalogue within the three-month period. They are both available in French and English and are complete with brand new photographs of the artisans' handcrafted products. A brand new banner has already been used for promotional use and we have also carried out promotion and marketing via Facebook. The Tigoung Nonma Facebook page was created in January to advertise products and publicise the co-operative.
Within the last month we've secured a sample order of over £1500 pounds from an international Fair Trade business based in the UK. The samples have now been sent and, if well-received, the business will become a long-term partner of the co-operative - advertising the leather products in their catalogue and making regular purchases.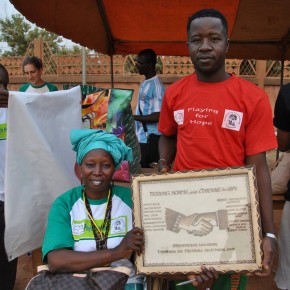 Our long-awaited Tigoung Nonma and disability awareness event took place last Saturday: a football tournament hosted by Tigoung Nonma and Coaching for Hope, an international charity that uses football to teach young people about HIV/AIDs and sexual health.
Over 300 people attended, including a local chief and the director of a large national charity.
It was the first time any of us had organised or hosted an event of this scale and, despite a small dose of chaos, I am delighted to say the day was a success. Tigoung Nonma and Coaching for Hope have now secured a long-term partnership.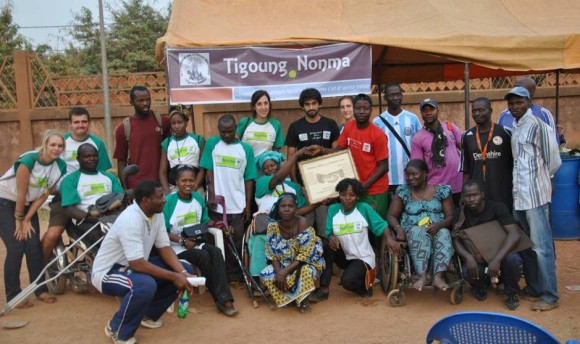 The final part is yet to come. Like any capacity-building project, only when we have left will we know how successful our work has been. However, I feel confident. The Tigoung Nonma team appear to have found a new passion and hope for their co-operative. It is this drive and our continued support from the UK that I hope will ensure the Tigoung Nonma continues to grow and develop.