Hi, I'm Henry - I arrived in Ghana to work for DFID a few months ago. In my blog I want to share  ideas about the country, what we do here, and what life is like for Ghanaians. 2012 is a crucial year for Ghana - the economy is growing rapidly, oil revenues are starting to come into the country, and there's a general election in December. But, as much of the country changes rapidly, some people are getting left behind. This first post  is about one of our projects I went to visit last week:
Karim grasped the chalk firmly in her hand and carefully traced out the letters of a word on the blackboard. She is the first female in her family ever to be able to do this – the first to stay in school, the first to learn how to read and write.
A goat strayed underneath the tree where Karim and her classmates sat, and nibbled idly at a stool. Sitting outside with the distractions of the village going past might not be the ideal environment, but it's better than not going to school at all.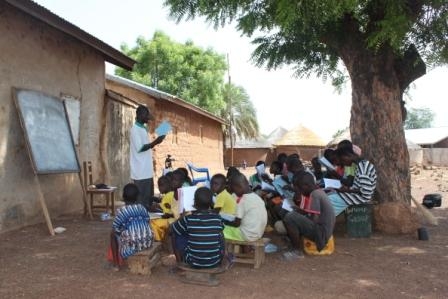 Originally, like her elder sisters, Karim had been forced to leave primary school to help her mother at home. In the less-developed north of Ghana this is not uncommon.
Karim's second chance at learning comes from 'School for Life' - a programme DFID Ghana supports which targets children aged 8-14 in rural communities in northern Ghana who have dropped out of primary school. It works with these communities to find a local facilitator to teach, and finds a time for classes that allows the children to help out at home, as well as go to school.
Outside; under a tree; in an unoccupied school classroom – classes take places wherever they can. Children get taught intensively in their native tongue for nine months, and can then re-join primary school. The programme has helped thousands of children since it started 17 years ago.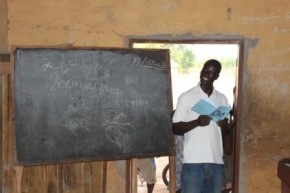 Each 'School for Life' class is overseen by a local committee, normally consisting of three women and two men from the village.
They decide the format of the classes, nominate a teacher from within their community, and visit a family if their child stops coming to class.
A School for Life programme manager translated for me as Baba, the Vice-Chairman of Karim's school committee, explained: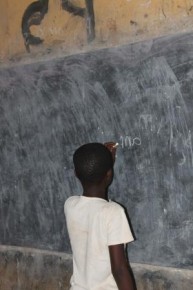 "Even the blind and the dumb know that education is important. This place from here to Tamale (northern Ghana's main city) was all farms. New buildings have choked most of the land – people won't even get land to farm… If you don't go to school, the land you used to farm, or your father's, or your grandfather's is no longer yours. You can't count the importance of education."
For many, the nature of life in northern Ghana is changing. Baba and most of his committee had not gone to school, but they realise what a difference that made, and what these changes might mean. He continued, "Our age group, who went school, they still look young compared to us because of the nature of our work."
Hopefully for children like Karim, it won't be the same.