Have you ever been to the cinema and seen a trailer for a film that you previously had no interest in watching and then suddenly thought to yourself, "That is a movie I CANNOT MISS"?
That was the idea behind this three-minute film by a talented young filmmaker called Ryan Youngblood that I stumbled across in Kigalione day and I think he and producer Doune Porter more than fulfilled their brief.
On April 26, during WHO's first-ever World Immunization Week, Ghana will introduce not just one but two new vaccines into its immunisation programme. It's part of a global effort supported by DFID and one every Brit can be proud to support.
The pneumococcal and rotavirus vaccines will protect infants against the leading causes of the two biggest killers of children in Ghana and throughout the developing world - pneumonia and diarrhoea.
The GAVI Alliance and our partners UNICEF and WHO are working with Ghana's Ministry of Health to plan a massive celebration in Accra at which the first children will be vaccinated.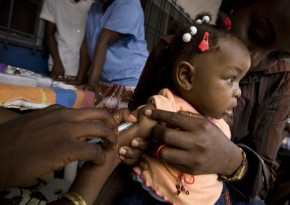 On the same day, halfway across the world, in Atlanta, Georgia, USA, our friends at the UN Foundation will be launching the Shot@Life campaign to encourage the American public to champion vaccines as one of the most cost-effective ways to save children's lives around the world.
As you can imagine, back in Ghana our colleagues at the Ministry of Health are feeling more than a little pressure and this film brilliantly captures the careful, methodical planning process that is involved in introducing new vaccines into the national health programme.
It also portrays the skill, wit and energy that Ghanaian health professionals are investing in this extraordinary initiative.
Like the best trailers, our little film has all the right ingredients to make you want to know what happens next: handsome men, beautiful women, tragedy, suspense, despair, hope and raw determination!
Watch it now: you won't be disappointed.
---
Please note, this is a guest blog. Views expressed here do not necessarily represent the views of DFID or have the support of the British Government.

The vaccines have been financed with contributions from GAVI donors including the UK, Italyand the US, and co-financed by the Government of Ghana.
More than 400,000 Ghanaian children will be immunised against pneumococcal disease thanks to a US $2.6 million contribution by JP Morgan, matched by the UK through the GAVI Matching Fund for a total contribution of US $5.2 million.
UK aid is changing lives - find out how and get involved on our Facebook page.
Find out more about how DFID works with the GAVI Alliance and other private foundations.