We spent our last few weeks in Afjalpur making sure we had met all of the targets laid out in our day-to-day plan and compiling a handover folder so that the next ICS volunteers know every detail of the work we have done.
Whilst our programme followed the ethos of sharing skills, knowledge and good practice, there were a few things that we bought to make a lasting impact on the community. Firstly, we were able to use some of our remaining budget to carry out a vaccination camp for 'badla' (or 'black quarter' in English) - an infectious disease which is particularly threatening to cattle at this time of year.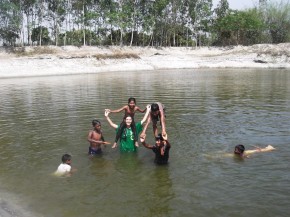 We also bought a community notice board so that the co-operative members are able to find out times of meetings. This will save them a lot of time and energy in the future as the 28 members are spread far and wide throughout the village. It will also help to mobilise the members to actively participate in the co-operative and take responsibility for their own meetings long after ICS volunteers have left the village, thus ensuring their own sustainable development.
To further our messages on hygiene, which we had particularly highlighted during our first Community Action Day, we bought soaps, toothbrushes and toothpaste for the students of the community school. In the following days it seemed to become the new craze for children to wander through the village brushing their teeth and it was great to see them clearly taking note of our tooth-brushing and hand-washing messages at a young age.
After we had finished all of that, squeezed everything into our rucksacks and said our long and tearful goodbyes, we were off to spend our final three days in Dhaka.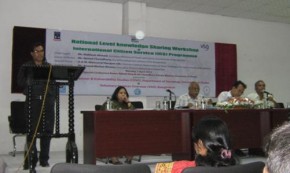 The teams of UK and national volunteers from Chittagong Hill Tracts, Bagerhat and Rangpur came back together to evaluate the programme and prepare for the National Level Sharing event to be held at Dhaka University on our final day.
We made a video (that you can watch at the top of this blog) summing up our wonderful experience and presented this to the audience, which included representatives from the Bangladesh government, our partner organisations and DFID Bangladesh, amongst many others.
The event was an excellent opportunity to share our challenges, as well as successes, with people who will be around to support and monitor the next cycle. It was also testament to how keen DFID and VSO have been to listen to our suggestions and feedback throughout the programme, particularly as this was the pilot year.
As it has recently been announced that another 7000 young people will be volunteering on the International Citizen Service in the next three years, it is really positive that both of these organisations are so willing to make alterations according to the suggestions of young people from the UK and abroad who have participated in the programme.
Now that I have returned to the UK (and have full-access to a computer and an internet connection far faster than I've been used to) I have been able to read back through my blogs and reflect on an incredible three months.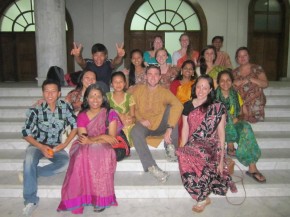 My experience was everything I had anticipated in my first entry, yet I certainly wasn't prepared for how real the statistics I had read would become. Listening to the 28 dairy co-operative members speak about the daily struggle of living hand to mouth whilst we conducted our base-line survey at the beginning of our project immediately put things into perspective.
I have since spent three months living alongside people who are affected by the gender inequality, climate change and extreme poverty that I read about in article after article. Moreover, these people have become close friends. It was a busy three months and of course there were difficulties along the way, but it is in overcoming such difficulties that our team was strengthened and the already improved situation of our co-operative members shows how much we achieved.
I have taken a lot from this experience and try as I did to write blogs and reflect on my time in Bangladesh along the way, I know that it will only be in years to come that I am able to really look back at just how much I have learnt from this opportunity.
---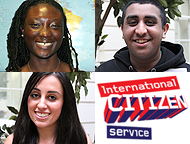 Find out more about the International Citizen Service
and how you could make a difference in some of the world's poorest communities.
Listen to our podcast to hear returning volunteers share their stories.