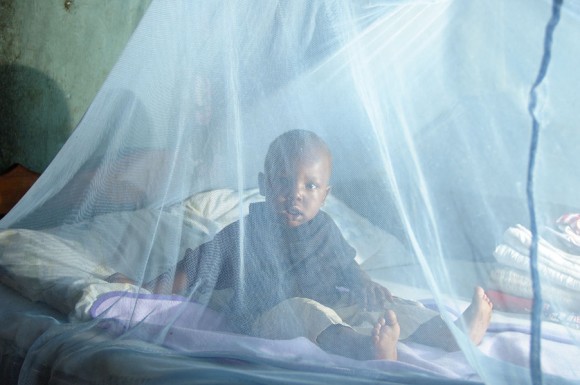 It's moth season in Kinshasa.
Every month here seems to bring different insects. Sometimes it's giant flying beetles. Other times it's swarms of brown paper-like flies. Just now there are moths everywhere - moths as big as my two hands; tiny moths; you name it.
But every season here is mosquito season.

Being a wet, equatorial country, the Democratic Republic of Congo (DRC) suffers from malaria across 97% of the country.
The burden of malaria in the DRC is enormous, and alone the country accounts for nearly 10% of all malaria cases in Africa.
One of the first things I learnt about working in development is that everything is interconnected. If we don't tackle malaria, it will be very difficult to improve people's health outcomes in DRC. Not only that, but if people are sick with malaria, they are unable to go to school, or get their goods to market, or seek employment.
In my current job, though, there's another set of links to consider. As DFID DRC's Climate and Environment Advisor, I look at all of our programmes to ensure we've thought through how to handle any climate and environment risks and opportunities.
Right now I'm looking at a new programme to tackle malaria in DRC.
The programme will provide 10 million long-lasting insecticide-treated bednets to people in the DRC by 2015. This is clearly crucial to helping people here live healthier lives. But what are the climate and environment risks and opportunities?
For a start, we need to consider how and where the bednets are produced, treated with insecticide, and packaged. Is there a way to cut down on the amount of waste from the bednets, or to ship them rather than fly them around the world?
Next, what happens to the bednets when they reach the end of their lifespan? Many bednets have been found being used as fishing nets or for other household uses. But they contain residual pesticides and there may be better uses for them. What's the scope for providing incentives to recycle them, such as providing free or discounted replacement bednets?
Thinking about the interconnectedness of development challenges again, how might we address drainage and waste management to reduce the amounts of standing water that forms breeding grounds for mosquitoes? Another of DFID DRC's programmes is in the water and sanitation sector, so we can think about both of these programmes in tandem to make sure they complement one another.
Finally, a crucial link between climate change and malaria is that, as temperatures and rainfall patterns shift, malaria will move to areas where it wasn't a problem before. We need to be able to plan for a changing future, not just for how malaria affects people today.
In this way, we can think through how to achieve 'win-wins' that deliver both development results and tackle climate and environment challenges in one go.
On World Malaria Day, it's these kinds of win-wins and links we need to keep in mind as we try to count malaria out.
So I'll focus on the mosquitoes, and not the moths, today. Just as soon as I've shooed the last few out of the office!