Having spent some time in Zimbabwe (since 2010) I have certainly become relaxed and really appreciate this beautiful country. I feel relatively safe, in comparison to many other cities. Arriving at Harare Airport, one is met with helpful staff and no hassle in getting a cab - where else is this the case on the African continent?
A bigger, more important question is whether Zimbabwe is improving for its ordinary citizens and that is much harder to answer. Clearly the country has stabilised in economic and security terms since the crisis of 2008, but there is little 'hard' statistical evidence to track the trends in indicators that measure poverty - or the lack of it.
With support from various agencies, including the EU, UK and in particular USAID, the national statistics agency ZimStats has just released the results from its wide-ranging Demographic  and Health Survey (DHS) 2010/11, that is conducted regularly at five yearly intervals. Since the last DHS survey the country has seen huge changes - the disappearance of the Zim dollar and mass migration; and the rollout of ARV drugs for HIV infected people, for example, but what effect has this all had?
Despite the intervening crisis of 2008 it's very welcome to see an overall decline in the adult HIV infection rate from 18% to 15%, although still very high, with one third of women in their 30s and men in their 40s being infected. The good news is that clearly safer sex practices and awareness are helping to protect young Zimbabweans. Campaigns against malaria are also working - the ownership and use of mosquito nets has increased threefold since 2005 and infant mortality has dropped slightly.
However what the statistics also reveal is the deterioration of basic services, which have resumed since 2008 but are still well below the level of a decade ago. Maternal mortality rates have jumped, just as the number of births supported by trained attendants has slumped and nurses have left the country. Primary school attendance has dropped by 4% overall since 2005/6 and is now below the 90% threshold; secondary school attendance has increased slightly but there are still less than half of teenagers in school and that does not bode well at all.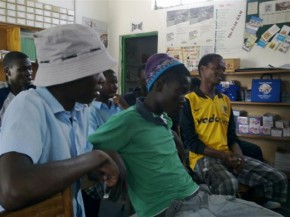 Zimbabwe used to boast proudly of it near universal adult literacy rates, now there are 2% fewer literate young men in their late teens, as opposed to those in their early 20s. A disrupted education has a much less dramatic effect in comparison to the cholera epidemics and chronic food shortages that accompanied the 2008 crisis.
However the impact of young unemployed men lacking basic skills and knowledge can be potentially disastrous, as many other African countries can attest. Rapidly scaling up second change education chances for young Zimbabweans who dropped out of school is one of the key priorities of the Education Transition Fund, a multi donor initiative that is moving on to a new phase with European and UK support, having completed a major textbook distribution campaign in 2011.