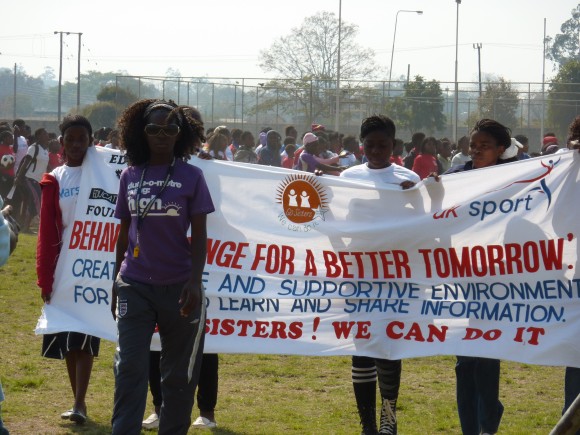 Skill. Ability. Discipline. If becoming a sportsman is hard work, becoming a sportswoman in Zambia is even tougher. You need the mental strength to challenge the assumptions of nearly everyone around you, including your own family. Sharon Museke, who I first met at the 2006 Toronto World AIDS Summit, embodies these qualities.
In Sharon's community, Chawama, sport was "for boys", which left no opportunities for girls. Bored from a tough routine of domestic chores, many girls inevitably become involved in drugs, alcohol abuse and casual sex. But Sharon used sport to look beyond this and knew other girls could, too.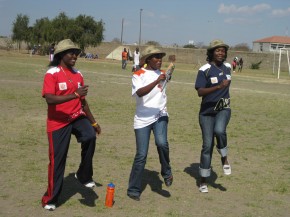 She is the eldest of three children and the only one in her family to have completed higher education. "My father passed away when I was in Grade 8," she told me, "and by the time I had completed school, my mother was sick. After she died, my brother and sister could not afford to go to school. All we could afford was food for the family."
Struggling to scrape together the money to survive, Sharon was sufficiently motivated to start volunteering at a community school. She worked hard there as a PE teacher, encouraging girls to get involved in sport, but also facing her own challenges: "My family and friends did not support my decision to become a PE teacher because it was not common to see females in sport. Parents felt I was trying to promote prostitution because I allowed girls to use the same sports facility as the boys whilst we were wearing shorts that exposed our thighs," she said. "I wanted to change people's perception of females in my community, so I never listened to what people said about me, I just tried to make sure that a lot of girls are participating in sport."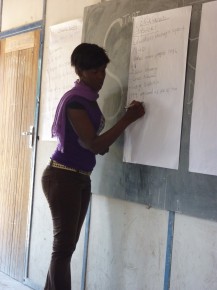 Resisting the pressure to conform, and strengthened by the values she found in sport, she continued to work at the school. It was there that she met Annie Namukanga, an intern programme officer for EduSport, a Zambian charity using sport to educate young people. Annie introduced Sharon to Go Sisters: a programme that aims to build girls' physical resources, to give them social recognition and to challenge some traditional gender myths - all through the use of sport. The UK aid-funded initiative is supported by UK Sport International through International Development through Sport.
Together, Annie and Sharon formed an action team of eight girls and two female teachers to plan and organise community sports activities specifically targeted at girls and at changing attitudes in their community. As more and more girls joined the group, they started forming teams and eventually leagues: "My experience with Go Sisters has changed me physically, emotionally and built my capacity," Sharon told me.
Go Sisters gives girls responsibility for organising community sports activities. It allows trained peer leaders to test their leadership potential, and to develop their organisational and negotiation skills through team and event management. Local sports festivals that bring the community together showcase their work: the focus is not only the field of play, but also important messaging around topical health issues and human rights. Partner organisations are invited to speak about their area of expertise - such as women's rights, or HIV/AIDS - getting access to communities they might not otherwise have reached.
Simple, universal games like 'Tig' and 'Grandmother's Footsteps' are used to illustrate people's vulnerability to the HIV virus. After the game, the peer leader sits down with the group and explains the metaphor for the games played, creating a safe space for discussion on that topic. They also use traditional Zambian games to involve groups of girls in movement exercises and songs in the same way. These are easily incorporated into sports sessions as warm-up exercises and are simple for other girls to replicate at school and before and after games.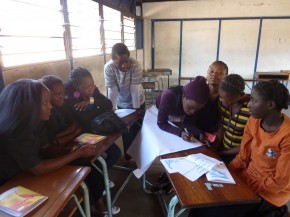 Sharon's life has certainly been transformed. Her skills and competence led to her appointment as a National Co-ordinator for EduSport and she now travels the world to speak about the way sport opened up new horizons for her and thousands of other girls in Zambia. I caught up with her during a field visit as she took part in the annual Go Sisters Sports Festival in Lusaka.
Now, she says, girls tell her, "We want to be like you one day," and the same parents that once judged her as a harmful influence thank her for what she has done for the community.
"Go Sisters has produced leaders who have good opportunities and are developing skills and gaining employment because of it," Sharon told me. "Parents have come to realise the importance and benefits of girls' participation in sport. Girls are able to talk in public and assert their rights. Go Sisters has helped them to adopt these leadership roles and take the lead in their own lives. Now many see the importance of staying in school."
Sharon is an outstanding young woman who is both proud of what she has achieved against the odds, and modest enough not to see herself as anyone special. I came away from our meeting inspired by someone whose life story is a testament to the power of sport to transform individuals and communities.
------------------------------------------------------------------------------------
Please note, this is a guest blog. Views expressed here do not necessarily represent the views of DFID or have the support of the British Government.

UK aid is changing lives through sport.
International Inspiration is the ground-breaking international legacy programme of the London 2012 Olympic and Paralympic Games and is part-funded by UK aid.
Find out more about how it's reaching 12 million young people through sport in the UK and 20 countries around the world, including Zambia.