I was nervous and excited about this meeting. I dressed modestly and checked my headscarf as inside the small room were 15 local mullahs. They lived up to my image of elderly Islamic clerics, with long beards, turbans and serious countenances. Today, I was here to learn about Islamic attitudes and practices towards family planning.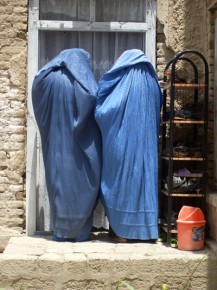 Afghanistan has one of the highest maternal mortality rates in the world. Childbirth is a dangerous experience here. Nationally, 1400 women die for every 100,000 live births. The NGO runs regular information sessions with religious leaders to discuss family planning. These are vital issues for women in Afghanistan, but they're are also being discussed on a global level at the moment - in the context of the Tokyo conference on Afghanistan which took place yesterday, and in London at the UK's family planning summit this week.
I was introduced alongside our regional health adviser from London and the regional director of the NGO, appearing modest and avoiding eye contact. We briefly introduced ourselves and started the conversation by asking what the Koran teaches about family planning. The spokesman for the group talked about the importance of family life and the care, respect and importance that women and mothers have in Islam. In the prophet Mohammed's lifetime there was no contraception, only the withdrawal method, which he practised.
I then asked why the mullahs had come to the meeting and what they wanted to learn about contraception. They all said they were concerned about the number of funerals they presided over of young women in their communities who had died during childbirth. While they are religious leaders, they are also husbands, brothers and sons who have seen the sufferings of their wives, sisters and mothers. Their job was to counsel their communities and young couples before marriage, so they needed to know about modern methods. I was moved by their genuine concern for the sufferings of women and smiled at one of the mullahs - his serious face broadened into a grin. There were more questions and all too quickly it was time to leave.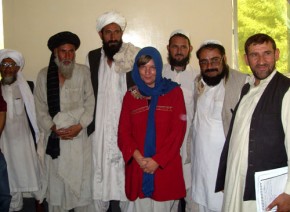 After we thanked the group, the leading mullah thanked us for our interest and concern for women in Afghanistan. He understood that not everyone in our countries came to Afghanistan with guns, and knew that there were people in our countries, who really care about the people of Afghanistan and he was glad for our concern and interest.
I was extremely moved by his words and this meeting confounded some of my stereotypical ideas about Islam. I learned about respect and understanding with people who had very different views to my own. The mullahs I met cared about women and were open minded and open hearted in a way that put me to shame. Our cultures, histories and circumstances shape us but in a place like Afghanistan, we must resist stereotyping and embrace our common shared humanity. I will never forget this encounter.