I recently travelled to Helmand province in the south of Afghanistan to see for myself the activities DFID and others carry out there. I was most interested in seeing improvements in governance and basic service delivery.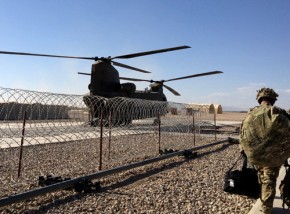 It was an exciting trip which involved a plane and a thrilling ride in a Chinook. The helicopter was filled with soldiers so I did my best to pretend that it is perfectly normal to commute this way!
The Provincial Reconstruction Team (PRT) is based in the provincial capital Lashkar Gah, a town of approx. 150 000 inhabitants. It is a UK-led, multinational and civil-military effort to bring stability to Helmand. In March, we saw elections in the district of Sangin. This district has been previously known for its large number of International Security Assistance Force (ISAF) casualties. Over 2000 elders and other notables took part in a secret ballot to elect a District Community Council to represent the people of Sangin, and even one female stood and is now a member of the council. In a unique situation for Helmand she was voted in by men from her community (see more in the Head of Mission's blog).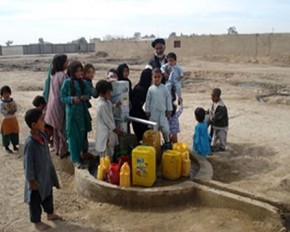 I met with the mayor of Lashkar Gah who told me how our support to municipal development had transformed the town. He said, "Before, roads used to get flooded all the time and it was difficult to pass them. With the new drainage system, things are much better." Other improvements include the construction of hand pumps and better waste collection.
The project is about much more than just improving infrastructure. It has also created community groups which hold meetings regularly to discuss priorities. I met two representatives of these groups and UN Habitat staff to learn more about their work. Our meeting was held over a delicious Afghan lunch that we ate under a canopy outside, on traditional carpets and cushions.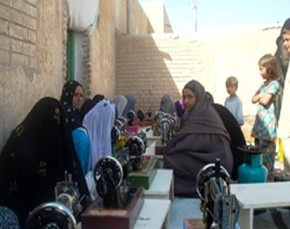 It was interesting to hear from them how they decided what was essential in their communities and how they use some of their own funds to further improve the infrastructure.
I also learnt more about the training the project provides, for example, teaching women how to tailor clothing so they can earn money for their family.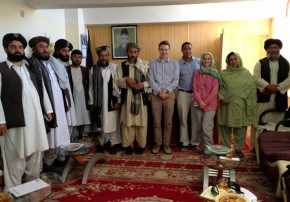 Another way the UK government helps improve governance is through support for the Municipal Advisory Board in Lashkar Gah. This elected group represents the community and holds the authorities to account.
Over endless cups of delicious green tea, nine of the members told me about their work, how they help settle disputes and bring the concerns of local people to the attention of the mayor. I was particularly interested in the views of one of the female members of the council who told me how she had been able to make a difference.
After a lengthy trip back to Kabul I arrived energised by the experience and came away with a much better understanding of our achievements so far, and what further work needs to be done. Why the title of this blog post? As an Austrian, I was delighted to see in the PRT cook house, a delicious apple strudel!