If a week is a long time in politics, how long is 10 years in development? Back in 2010, Government and development partners agreed that Ghana should be aiming to no longer need aid by 2020. In the last few weeks we've been thinking about how realistic that is, and what we need to do to get there.
My short view is that there's still some way to go. However, it's important not to lose sight of the remarkable progress Ghana has made in recent years; a reduction from 52% of people living below the poverty line in 1991 to 29% in 2006 (the most recent year for which the numbers are available). That means there are millions of people whose lives are significantly better than their parents. But it also means there are still millions who live on less than $1.25 a day.
What might need to happen between now and 2020 for Ghana not to need aid? Whilst the economy continues to grow rapidly (14.4% in 2011), it's crucial that human development indicators (performance in health, education and so on) keep pace with the impressive economic statistics. Ghana's success at lifting people out of poverty has also primarily been the success of the south of the country. A huge 69% of the population in the three northern regions of Ghana still live in poverty (see some of my previous blogs on our programmes in the north here and here.)
It's difficult, then, to imagine a Ghana free from aid without reducing the inequality between the north and the south. Ultimately, people need to feel on an individual level that they are benefitting from a country's economic growth, otherwise they have no interest in trying to sustain it; growing inequality would surely create discontent further down the line.
Whilst Ghana has made great progress in, for example, increasing the number of children in primary school, in terms of education outcomes (what children actually learn) there's still some way to go. (Watch a brilliant TED talk from a Ghanaian on the importance of education here.)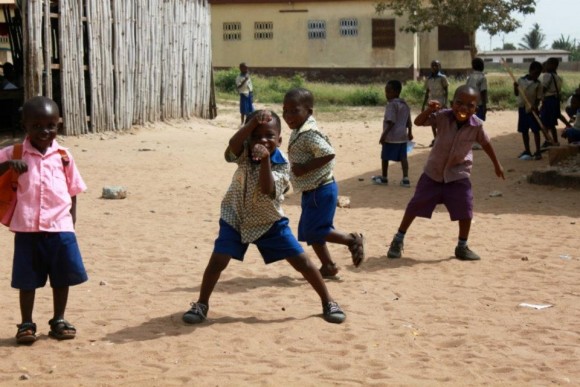 Translating the economic growth into large numbers of jobs for people will be crucial. The size of the formal sector – the number of medium size businesses, the number of people in jobs where they actually get paid, rather than, for example, subsistence farming – will need to increase rapidly, and Ghana will continue to need to look beyond natural resources to other means of creating income.
If Ghana is to stop needing aid, I also think continuing to reform the public sector will be critical. Well-functioning state institutions are crucial for any country seeking to improve the lives of its citizens. Whether through technical assistance, institutional strengthening, changing incentives - the real challenge is how to achieve this reform. I think mobilising communities and encouraging citizens to demand accountability from their government will also be crucial as Ghana looked to a future without aid.
There are no easy answers, but the fact that we're starting to think about the questions – what does Ghana need for a future without aid – is surely a positive thing.