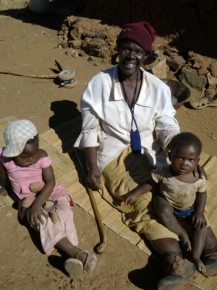 This month sees the 19th Biennial International AIDS Conference being hosted in Washington DC - it's great to see a return to the USA of this major event, following the lifting of visa restrictions for HIV positive people. Thankfully the stigma against HIV/AIDS infected people is declining and it is great to see steps being taken to rollout testing and treatment where it's needed most - in Africa. Former President Mogae of Botswana is one of the 'heroes' who will attend the conference - his 'opt-out' testing initiative was instrumental when combined with free treatment to reverse one of the highest infection rates in the world.
The impact in particular of HIV/AIDS in Southern Africa is hard to come to terms with. Stark statistics on mortality rates inform, but the sheer scale and human suffering really hits home when one visits communities that have lost a major chunk of the middle generation - leaving grandparents and orphans to get by on their own. I posted last year on the start-up of a social cash transfer system in Zimbabwe – jargon for regular monetary payments to poor households who have no income or active adults able to work. Over the past six months UNICEF (utilising EC, UK DFID , Netherlands and Swedish finance) have supported the social welfare department of the government to painstakingly visit around a quarter of one million households and identify the 10 percent most in need - 20,000 households which include over 50,000 orphans and vulnerable children.
Every two months secure cash vans travel the country, distributing payments of US $40-50 to the selected rural households at agreed pay points. Queue's of predominately elderly people form, those who are facing the lion's share of caring for Zimbabwe's orphans. Unsurprisingly there is much debate on who are selected to benefit, but the huge efforts undertaken to make the process as fair and transparent as possible seem to have paid off.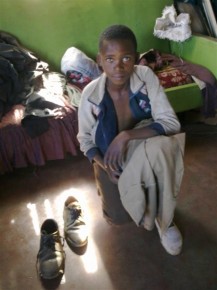 I visited a rural area of Matabeleland on a bright, cold mid-winter morning. We met community leaders who described the payments as 'a gift from God', arriving in the midst of a drought that had prevented crop production this season. Their only question was whether more people could benefit and cited cases of people being left out. The payments went a long way towards purchasing food with any remainder going towards school books and clothing.
Visiting a nearby family the need was evident; bare dry field surrounding a couple of simple dwellings that was home to Jane, her 20 year old grand-daughter with babe in arms and another five children. Details were sketchy, but clearly her adult children and partners were all gone – died and departed. The money received so far had all gone on food. Grace said she may raise poultry in the future but school bills also needed paying. Her slight 13 year old grandson Nyasha was off school today (the teacher hadn't shown up) - he quietly showed me his threadbare school clothes and worn shoes. The difference that money would make to his life was so painfully obvious I handed over a dollar and my biro.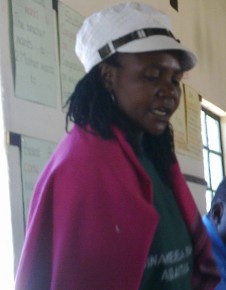 In another neighbourhood Regina, a voluntary child case worker, took us to visit another affected family. She reflects that her work is a 'calling' and has helped this family to get children's birth certificates needed to access services. Another grandmother sits on a reed mat in the sunshine, her daughter and young granddaughter nearby. The compound is tidy, the scenery charming, but it is evident that both younger members of the family are not well and the recently departed father most likely died of an AIDS related condition. Whilst stigma is declining, the mother is still not willing to consider HIV counselling and testing – the pathway to life saving Antiretroviral (ARV) treatment that is increasingly becoming available.
As we start the long dusty drive back to Harare I think of my own elderly parents and how they would cope if my three brothers and I had left them with their 10 grandchildren to raise, without savings or pensions to fall back on. For me, it put Europe's current fiscal crisis into some perspective.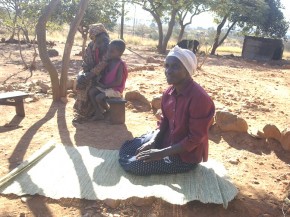 (Note some names changed in this posting, consent was given for pictures taken by author).