I went to a fantastic lecture at the London School of Hygiene and Tropical Medicine on the 12th of September - it was the annual John Snow Pump Handle Lecture. I had decided to walk as it was a nice evening, but having only allowed myself half an hour to get there I had a mad dash across Green Park, along Piccadilly, Shaftsbury Avenue and Tottenham Court Road, to reach Keppel Street. I arrived in a sweat, but managed to find one of the last seats in the John Snow lecture theatre.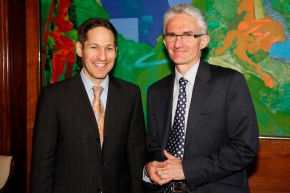 The lecture was given by Dr Thomas Frieden, the Director of the US Centers for Disease Control (CDC). The Pump Handle Lectures highlight key public health interventions which have the potential for major impact on the health of populations. The lectures commemorate the historic intervention of John Snow, who removed a pump handle in the water pump supplying a community around Broad Street (now Broadwick Street) in Soho in 1854, which ended a cholera outbreak. John Snow is considered the father of epidemiology, as a result of the investigations which led him to conclude water was the source of the outbreak.
Dr Frieden, an epidemiologist, did full justice to the lecture's challenge of identifying the modern day equivalent of pump handles, which if used or removed could help end modern epidemics. He gave an erudite overview of the public health challenges of tobacco, salt and hypertension, alcohol and trans-fats (linked to obesity and heart disease - and an issue Dr Frieden promoted in New York). Dr Frieden cited evidence based interventions that can, when widely applied, bring real health gain. It was a sparkling performance, illustrated with quotations and anecdotes that enthralled the packed lecture theatre.
Dr Frieden was in DFID today, meeting with DFID's Permanent Secretary, Mark Lowcock. DFID and CDC collaborate in a number of areas, with many shared objectives around disease control.
One of the items of DFID's agenda for the meeting was to discuss the successes of organisations such as the Global Alliance for Vaccines and Immunisation (GAVI), the importance of on-going support, and linked UK and US interest in supporting Polio eradication. It is worthwhile flagging a few of GAVI's successes, to illustrate why DFID is a big supporter.
Over the last 10 years, GAVI has enabled many of the world's poorest countries to strengthen their routine vaccine delivery systems and to introduce under-used and new vaccines.
Since 2000, GAVI has vaccinated over 326 million children and saved over 5.5 million lives.
DFID is a leading donor to GAVI - the UK's support alone will vaccinate 80 million children and save 1.4 million lives by 2015
On polio transmission, CDC put polio on a programmatic emergency footing in late 2011 stepping up surge capacity and increasing technical support overseas. DFID provides significant funding to international efforts to eradicate polio, with support to the Global Polio Eradication Initiative. Current efforts focus on Nigeria, Pakistan and Afghanistan, the only three countries which have not yet interrupted polio transmission. There have been 134 cases of polio globally so far in 2012, with 60% of all cases in Nigeria. Only when the final cases are eliminated, will the real financial benefits of polio eradication be realised by removing not only the threat of disease, but also the cost of vaccinating against it globally.