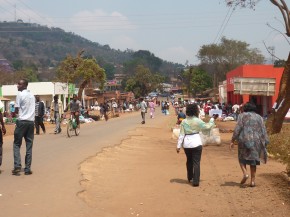 I have had a bit of a hiatus in my blogging since leaving Mozambique back in July 2011. I took up my new job as Head of Profession for Health full-time in August 2011, but it has taken me a while to make the most of the opportunity this job gives to use my blog to highlight the work of DFID health advisers around the world.
Last week though I struck gold, with an opportunity to return to Malawi 20 years after last working there as a district health officer. I mentioned in one of my Mozambique blogs that health facilities in Mozambique reminded me of Malawi. The return visit to Dowa District was a reminder that although there has been huge progress in some areas of health, in others there has been little change.
But more on Dowa later.
Firstly, I want to highlight two stars in the DFID Malawi Office. I've posted a picture of Dr. Ruth Mwandira and Susan Clapham, who cover the HIV and health programmes funded by DFID.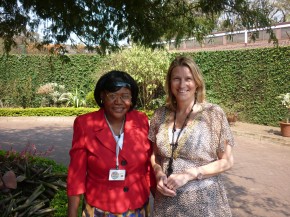 They, and Ethel Mbisa the programme officer, organised a series of meetings for me to review DFID's support for HIV. Ruth, a Malawian, is a huge asset for DFID's programmes in Malawi, with a PhD, and excellent technical knowledge based on a career working with the Christian Hospital Association of Malawi (CHAM) and a strong commitment to gender equality. Susan is an adviser with huge experience in Maternal Health (see this article she co-authored on maternal health in Nepal). Ruth and Susan will be making sure DFID investments in health and HIV deliver high impact and value for money.
So what has changed and what hasn't over the last 20 years?
Over my next couple of blogs, I am going to look at the Malawi's HIV programme, highlighting some of the successes of the programme and the challenges. For now though I will just focus on the health workforce and the progress that has been made in increasing the number of health workers. I also have a couple of images to share from my return to Dowa District, which highlight some of the things that haven't changed.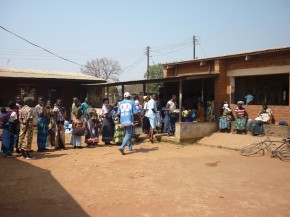 I worked in Malawi from 1990 to 1992. At that time Malawi had a population of about 8 million, and an additional 1 million Mozambican refugees, living on the Malawi side of the border with Mozambique. The population of Dowa District was about 300,000 (compared with over 400,000 now), and there were very few Malawian doctors acting as district health officers.
Twenty years on, virtually every district has a Malawian district health officer, and although Malawi still has one of the lowest health worker to population ratios, there has been a significant increase in its health workforce capacity. The health workforce situation was still at crisis point in 2006, as highlighted in this article by Debbie Palmer, but DFID joined UNAIDS and other donors to support an emergency human resource programme. The evaluation of the HR programme  records a 53% increase in professional health workers, from 5,453 in 2004 to 8,369 in 2009, but also highlights the remaining challenges.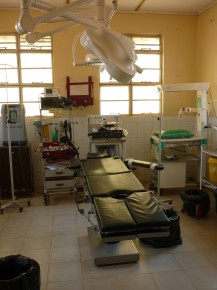 In terms of what hasn't changed, I am posting a picture of the operating theater at Dowa District, which does not seem to have changed since I last did a caesarean section there 20 years ago. I have also included above a photo of the waiting area at Mponela Hospital, with the queues highlighting that demand for health services remains high.