When I worked in Malawi in the early 1990s, the percentage of people infected with HIV was considerably higher, with 26% of the 15-49 year old age group estimated to be infected in the capital Lilongwe.  Concern at the scale of the epidemic prompted me to establish an AIDS information and counselling centre in Mponela using hospital resources and one of the nurses, Rita Chilongozi, from the District Hospital, who I posted to Mponela. The centre started in the building pictured below, with initial funding from ActionAid.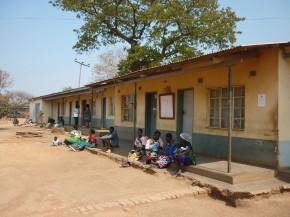 I was pleased to find that the Mponela AIDS Information and Counselling Centre (MAICC) is still running, although it is currently looking quite run down. It was a huge pleasure though to meet Mrs Damaso, who was a nurse in Mponela when I was District Health Officer, and who is now a counsellor at the centre, and is pictured below.
There have been huge improvements in the HIV situation in Malawi since the early 90s,but the level of ambition set out in the DFID funded project, which started in 2007, highlighted the difficult challenge to be managed.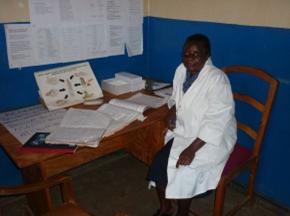 The primary reason for my visit to Malawi was to review DFID's support to the national HIV/AIDS programme, managed through the National AIDS Commission (NAC). DFID has provided a total of £19 million through or in support of the NAC since 2007, funding which has been combined with Government of Malawi resources and support from other donors, including the Global Fund to Fight HIV/AIDS, TB and Malaria, to help tackle the HIV/AIDS epidemic.
When this project began, 14% of adults aged 15-49 were infected with HIV (Sentinel Surveillance, 2004). Of the country's one million orphans, over half had lost one or both parents to AIDS. The epidemic is generalised in the population, and in 2004 infection among women was significantly higher than among men (13.3% versus 10.2%, respectively; DHS 2004).
DFID's support was aligned to national objectives. (You can read the specific targets in full in the National HIV and AIDS Action Framework (NAF) for 2005–2009 and the Extended National Action Framework 2010-2012.)
In order to quantify in very measurable terms the impact that UK aid is making through its support of Malawi's National AIDS Commission, the results we were looking to achieve in 2011 to 2012 included:
1.2 million free and 900,000 socially marketed condoms distributed
7 facilities providing voluntary male circumcision
108,000 clients tested for HIV
32,778 pregnant women counselled and tested for HIV
3.933 pregnant women receiving ARVs to reduce mother to child transmission
120,000 targeted communications products produced and distributed
180 community and influential leaders trained
The impact of Malawi's HIV Response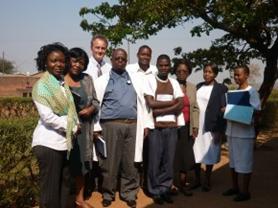 The process of reviewing the achievements of the programme included hospital and health facility visits, discussions with the National AIDS Commission and discussion with other key partners, such as UNAIDS, WHO, UNICEF, the US Governments PEPFAR programme and civil society organisations.
One of the facilities I visited for the review was Mtengowatenga Mission Hospital in Dowa District. This is a Mission Hospital, linked to the Christian Hospital Association of Malawi. Facilities there have developed significantly since I was there, and it was a pleasure to meet with the staff managing their HIV and other clinical services (pictured).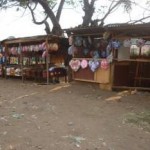 As we were driving towards the Bwaila Hospital in Old Town, Lilongwe, Ruth Mwandira from the DFID office told me that one of the impacts of Malawi's massive scale up of antiretroviral drugs (ARVs) has been a reduction in the number of deaths. We were passing along a street full of carpenters, making beds, sofas and coffins, and she told me that the number of coffin makers has decreased, with a welcome increase in the stalls now selling furniture. Above is a picture of one of the stalls selling coffins.
The prevalence of HIV has decreased for men and women in the 15-49 age group from 11.8% to 10.6%. Women's HIV prevalence decreased between 2004 and 2010 from 13.3% to 12.9%, and amongst men from 10.2% to 8.1%.
Living longer
One of the reasons we do not see a dramatic fall in HIV prevalence as a result of the programme is that people are living longer thanks to ARV drugs – which increases the number of people living with the infection. The only way to achieve a dramatic reduction in prevalence would be to significantly reduce the number of new infections (reducing the incidence of HIV) – and this remains the major challenge for Malawi.
Life expectancy has increased from 39 years in 2005 to 50 years (almost certainly due to reduced mortality from HIV). It is difficult to accurately judge the number of new cases of HIV, but these were estimated amongst 15-49 age group to be 57,000 new cases per year, however a recent UNAIDS model, which has yet to be published, estimates new cases may have reduced to about 46,000 per year in 2011.
Better access to drugs
More mothers and babies are getting access to lifesaving drugs. The percentage of HIV infected infants born to HIV positive mothers is estimated at 11%, which surpasses the target of 13% set for 2012. New plans to put all HIV positive pregnant women in Malawi on ARV drugs (called Option B+) will further reduce mother to child transmission.
The percentage of infected women attending Antenatal care (ANC) who receive ARVs is 76% for the first quarter of 2012, which is better than the target for the programme of 65%. And, the number of people with HIV infection currently receiving ARV therapy is 347,983. This is considerably better than the target of 200,000.
The challenge
And yet, in spite of all this good news, clearly more work is required to change behaviour in order to reduce the number of new infections.
There has been some, but not sufficient, progress on high risk sexual behaviours and this remains a challenge for the programme. Although there has been a decrease in the number of men and women reporting multiple partnerships – the percentage reporting condom use the last time they had sex appears to be lower now amongst those with multiple partners, although there has been some progress on condom use for the 15-24 age group.
The percentage of 15-24 year olds with good HIV knowledge has increased for men and women from 23.8% of women and 36.3% of men to 41.8% of women and 44.7% of men, but this is below the targets of 60% for both set by the programme.
The number of people tested and counselled for HIV has increased from 187,000 in 2004/5 to 1,249,425 in 2011/12, which is above the target set. However, when I checked out counselling techniques when visiting various health facilities, it was clear that much of the counselling is actually group health education. Given that counselling is potentially a powerful tool for behaviour change, it will be important for Malawi to evaluate whether the impressive results in terms of numbers counselled and tested is translated in to positive behaviour change.
So, what is the main message from these results?
Overall, Malawi's national AIDS response has achieved some impressive results in scaling up access to drugs. However, more effective behavior change work will be needed if new infections are to be reduced, and promoting evidence based interventions will be a priority over the coming years. There are also a number of questions about the longer term financial sustainability of the national response, which I will discuss more in my final Malawi post.