I am on a bit of a roll in terms of revisiting the past following my recent visit to Malawi. Today I had the huge pleasure of reconnecting with Professor John Ashton, who taught me on my Masters in Public Health, and was also the Regional Director of Public Health for the North West of England when I worked at the Regional Health Authority in the late 1990s.
I thought I would post a blog on the meeting that brought about the reunion, which was a seminar on urbanisation, because it resonates so well with the theme of Blog Action Day, which is 'The Power of We'.
But before I talk about 'the power of we', some context on urban health.
I had invited John Ashton and Peter Williams, Executive Director of Archive, to talk to DFID about urbanisation and health. The meeting was attended by London based DFID staff as well as staff in our East Kilbride and overseas offices, connected by video and phone conference links.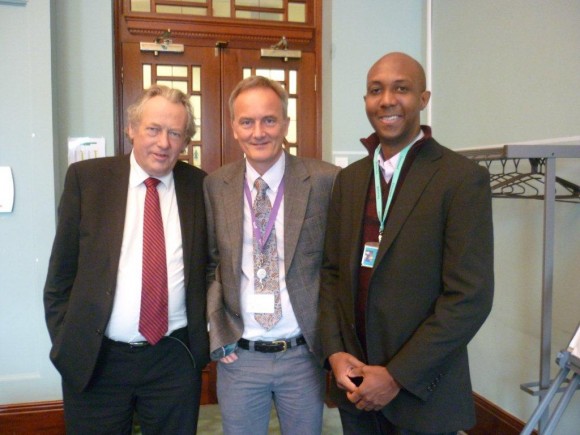 DFID has been running a series of internal seminars on urbanisation as part of a process of recognising current and anticipating future, development challenges. The truly rapid pace of populations moving to live and work in cities across the world is having a profound impact on the development agenda. More than 50% of the world's population now live in urban areas and we will not effectively address issues of global poverty without proper consideration of the management of urban areas and the sustainable development of the world's cities.
Professor Ashton's talk was particularly inspiring, and John has placed a number of the materials he used on his website. The talk highlighted that we in the UK should not only consider development as something that is done with or for others, but as a process that every nation has either been through or is going through.
The phenomenon of rapid urbanisation is not new. Urbanisation as a result of the industrial revolution in 19th century England led to overcrowding, poor living conditions, low quality housing development (slums), a deterioration in air quality, unemployment, poor sanitation and hygiene, poor levels of nutrition and risk of communicable disease. John drew on that historic perspective to highlight that an effective response needs to see the city as a whole place, drawing on experts in planning, transport, housing, health, education, employment, social development, business to ensure that cities evolve in a way that meets their populations needs.
A key driver for action to manage urbanisation is enlightened self-interest. Businesses and the economy are more likely to thrive if populations are protected from pollution and health hazards, if people have space and opportunity and access to education and if young people have a sense of belonging and an opportunity to contribute. The town and city planning movement in the UK demonstrated 'the power of we', and it is that power of joint working, of intersectoral action that needs to be tapped into for urban development. It is in all of our interests to reduce poverty and to tackle urban deprivation, it is a brake on human development and economic growth.
Peter Williams, the second speaker at the seminar, was an equally strong champion of the power of we. ARCHIVE (Architecture for Health In Vulnerable Environments) is an international non-profit organization that focuses on the link between health and housing. Peter drew on experience in South Africa, Cameroon, Nepal, Haiti and from across South America to highlight the relationship between health and housing. Peter highlighted that with 1.2 million people per week moving into urban areas, this is a challenge that we cannot ignore. Urbanization is an area of development which is crying out for effective, coordinated action and 'the Power of We'.