Late on Sunday evening, something happened for the first time ever. Whilst the UK public was frantically voting on X Factor, Ghanaians had been taking part in a democratic exercise of their own. All day Friday, and on Saturday in some delayed polling stations, nearly 80% of eligible Ghanaians had gone out to cast their votes. Then, around 9pm on Sunday night, the Ghana Electoral Commission's Facebook page revealed the outcome; for the first time ever, the official results of a country's democratic election were announced through social media. Suddenly, alongside X factor finalists, 'John Drahmani Mahama' (the newly elected President) was trending worldwide on twitter.
A rather less positive first on social media came last month when the Israeli Defence Force made the first declaration of war by a sovereign state on Twitter when it started bombing Gaza, but in their own way, both announcements seem very symbolic step changes in how social media can change the way we interact and communicate.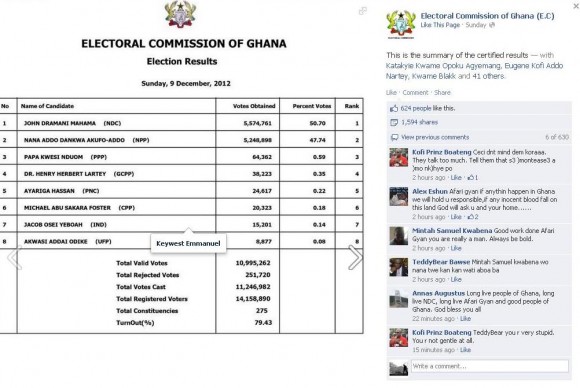 I've blogged about some of the technology UK aid was supporting in this election before (here), and the announcement of the results capped what had already been dubbed the 'social media election' in Ghana. One of the most exciting and innovative things which UK aid did around the election which I haven't written about before, was to fund a Social Media Tracking Centre. Software first developed and used in the 2011 Nigeria election allows the hundreds of election related social media posts happening every minute to be tracked. UK aid funded the people behind Nigeria's social media tracking - Enough is Enough Nigeria and the Georgia Institute of Technology in the USA– to adapt the programme for the Ghanaian elections. Using the software, we could categorise social media posts, analyse trends, work out exactly what people were talking about on the web and when, and get up-to-the-second information on emerging incidents.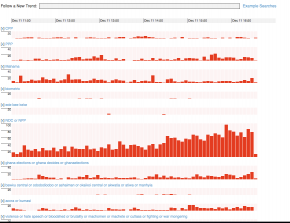 So whilst most of my colleagues were spending election day trawling round polling stations, clipboard and pencil in hand, doing a rather more traditional form of election monitoring, I spent much of the day monitoring online. Penplusbytes (the organisation behind Ghana Decides and Ghana Votes) was the organising force behind the Social Media Tracking Centre. Manning the centre were around 30 tech savvy volunteers from the Meltwater Entrepreneurial School of Technology in Accra, a brilliant foundation which provides mentoring and training for aspiring young African software entrepreneurs.Working in shifts non-stop for 48 hours, the Centre reviewed more than 250,000 Ghana election-related social media posts. Using key election phrases, (e.g. 'John Mahama', 'ballot boxes', 'electoral fraud') the 'Aggie' software automatically trawled twitter, facebook and google+ for all related posts. The team of students then set out categorising them – for example, some were irrelevant, others come under the category 'election irregularity', others 'results'. Where potentially serious occurrences were reported in posts, these could be escalated into 'incidents' - 350 incident reports were generated over the 48 period. Once incidents were recorded, other members of the team would then try to verify them - tweeting back to the person who sent the message, or trying to confirm the incident through other means. The team then had representatives stationed in the electoral commission and the police headquarters who they would report a verified incident to.
So I watched the elections unfold nationwide in real time on a computer screen. There were reports of late opening of polling stations, and long queues in the sun. There were moments of humour - "Chinese man spotted voting (unverified)", and moments of humanity - pictures tweeted of old men and pregnant women being helped to the ballot boxes to cast their vote. Some tweets seemed intended to offend, or incite violence or discrimination, and the team quickly tracked these. Graphs could measure the occurrence of certain key words or phrases over time - around 3pm on Friday, for example, we saw the number of posts concerning faulty equipment spike, as technological problems with biometric registration machines started to occur at some polling stations throughout the country.
In a few weeks time we will get a detailed report on what else we can find out about the election from the social media tracking - we should get a picture of the balance of positive/negative commentary from people, and an idea of the geographical spread of the contributions. Yes, of course there are inherent limitations to using social media to track elections - for instance, only around 10-15% of Ghanaians have access to the internet. It's not going to replace the traditional on-the-ground monitoring of elections, and nor is it intended to - it's complementary. In fact, we don't yet really know what else we can learn from the tracking, but its potential is hugely exciting in a lot of ways (and not just in relation to elections).
For far too many companies and organisations who do use social media, it is seen simply as an alternative kind of promotional channel. Its application in things like election monitoring shows its real power, however – as a way of listening to people. You don't need to organise costly focus groups, you don't have to compile complex surveys; you can find out, unmediated and in real time, exactly what thousands of people are saying. And this is where the application of social media tracking could go way beyond elections.
In our health and education programmes in Ghana, for example, we are constantly trying to work out better ways of doing 'beneficiary monitoring'; that is, working out what the people we are trying to help actually think. The ease (and the low cost) of having one simple programme in one central location for tracking what thousands of people from all over the country are saying, would be remarkable. And the possibilities of social media for mobilising people's support on issues, for tracking governments' progress against their promises, is vast. We may not be there yet, but social media surely has to be the future on this.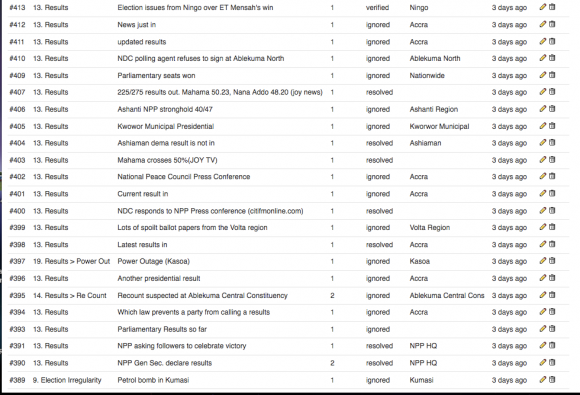 I just read a really good post on Ghana Decides (another organisation supported by UK aid) on what this election means for Ghana. It takes a sceptical look at all the praise being heaped on Ghana by the international media for holding another peaceful election. In it the author agrees that, yes, given Ghana's past and the chequered history of many of its neighbours, a peaceful outcome shouldn't be taken for granted (although the picture of democracy in Africa is far more positive than international media caricatures might suggest). However, the danger of all this praise is that it obscures other important issues Ghana's leaders should now be focusing on, and absolves them of the responsibilities they should be taking on when an election has been completed.Political leaders shouldn't only be held accountable every four years. Citizens shouldn't have to wait until the next time they go to the ballot box to be listened to. The blog cogently argues the point that "the elected leadership needs to be held accountable for more than holding peaceful elections. That's what they're supposed to do." Beyond this, leaders should continuously be tasked with raising people's standards of living and raising their own standard of governance; "peace and democracy are the starting point, but we cannot end there." Twitter and facebook could have a huge part to play in holding leaders to account for these obligations.
Social media played an important role in the elections here, but I believe it has a greater part to play in extending accountability beyond ballot boxes in Ghana and around the world, and that's even more exciting.