It takes imagination to picture what ancient Panjakent once looked like. While it might now be little more than a sprawl of ruins in western Tajikistan, the city was once a thriving trading point along the Silk Route. Like famous Samarkand, just across the border in Uzbekistan, this remote town is one of the oldest continuously inhabited cities on earth. It was also the starting point for a recent monitoring trip I took, visiting rural communities in which DFID implements aid programmes that confront the potentially disastrous impact of climate change. The Remote Geo-Hazards Project Part Two prepares villages in some of the most underdeveloped parts of rural Tajikistan to respond to mud slides, floods and earthquakes. DFID and its partner organisations achieve this through awareness raising programmes and stock piling potentially life-saving emergency response equipment.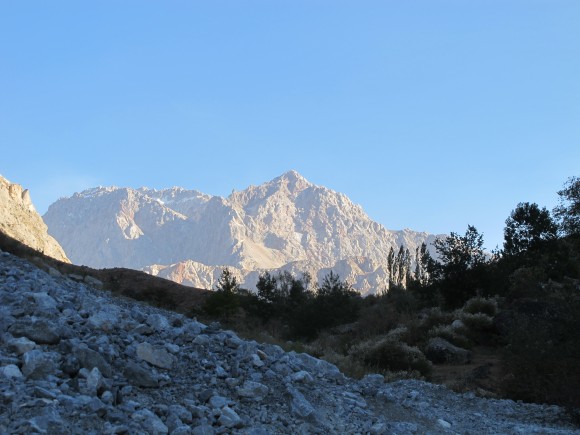 The backdrop to this field-trip was one of towering, snow-capped mountains that reflected into the pristine lakes that were dotted along our route. This idyllic setting made it easy to forget the country's recent civil war, as well as the challenges it continues to face. Indeed, a World Bank report released earlier this year describes Tajikistan as the country most vulnerable to the consequences of climate change throughout Europe and Central Asia. It is also the poorest of all the former Soviet republics in the region and is consistently judged as being one of the least developed countries in the world. The government has struggled to maintain infrastructure since the end of Soviet-era subsidies, meaning that the country is poorly equipped to deal adequately with climate change. This is why DFID has earmarked just over a million pounds to help ensure that the future of communities in the panoramic Zerefshan Valley of Tajikistan is environmentally sustainable. However, it is important to stress that we don't judge our success by the sums of cash that are pledged, but by the impact DFID has. It's crucial for the Department to conduct monitoring missions such as this in order to ensure that UK taxpayers are getting value for money from the aid that is delivered.
Increasingly, we measure this impact by the results that programmes achieve. Having only started at DFID recently this at first sounded very obvious. However, accurate monitoring and evaluation of results in many of the places we work, which are amongst the most fragile, remote and poor in the world, can be a huge challenge. This is the case in DFID offices world-wide where greater efforts are being made to gather strong data that demonstrate the positive change created with UK aid. DFID's focus on transparency has meant a drive towards making all programme information, results and major expenditures available online. This key information opens the organisation up to greater levels of scrutiny and accountability than ever before.
Data is also central to effective governance. In the West, censuses and other surveys provide the strong evidence base that helps rich nations accurately devise policy. However, in many developing countries it is a lack of reliable information that hinders economic progress. Without knowing where needs lie, it is impossible for governments to identify efficient ways to improve the lives of their citizens. In Tajikistan and Kyrgyzstan, DFID works in partnership with the World Bank, government bodies and civil society to build statistical capacity. The information gathered can then be used to better inform effective strategies that in the long term may reduce poverty, with greater impact, for less money. Ultimately, this contribution will hopefully play a small part in helping make the region, once again, a stable place where people from across Central Asia can prosper.
This post is part of the Graduate Scheme blog, in which a group of graduates from this year's DFID training scheme blog regularly on the issues they have encountered in their first year and those they foresee arising over their careers. More from the graduate blogs will be coming soon.