Democracy in Africa – is it worth the effort? And why should foreigners help a country like Kenya to run its elections?
It's Monday 4 March, and millions of Kenyans are already standing in long queues – many in intense heat – so they can vote. Democracy clearly means something to them. Many are first-time voters, in a country where well over half the population is under 25. Some Kenyans are cynical about their entire political class, writing them off as a corrupt, self-interested elite (a charge not unique to Kenya). Many will vote purely by tribe – though a new generation reject the ethnic maths of previous elections and want to choose based on personality and values, if not yet policies. Some might vote because they have been paid to (an electoral offence, yet still common). But for whatever reason, most Kenyans care enough to vote – and to throw the rascals out. In 2007, over two-thirds of MPs lost their seats.
This is a historic election – the first under Kenya's progressive 2010 constitution – with voters having six choices: President, County Governor, Senator, MP, County Assembly Representative, and Women's Representative in Parliament. That makes for a complicated voting process (and long queues). But it also gives Kenyans a big set of choices on who they want to run their country.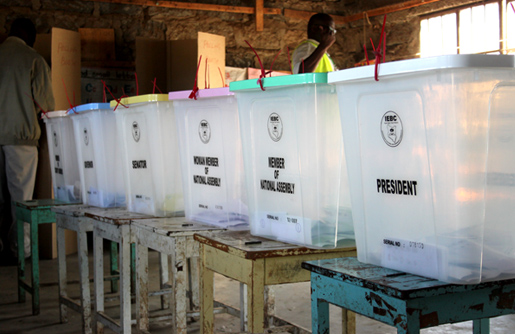 The six ballot vote represents a further step in Kenya's journey away from its political past. Power is being spread and devolved from an all-powerful Presidency and a centralised government to a bicameral Parliament and 47 county governments. Particularly for Kenyans who lived through the less democratic presidencies of Daniel arap Moi (1978-2002) and Jomo Kenyatta (1963-1978), this is progress. The chair of the Kenyan Independent Electoral and Boundaries Commission, Ahmed Issack Hassan, is a big fan of Winston Churchill, who observed that "democracy is the worst form of government, except all those others that have been tried".
So what have aid and poverty reduction got to do with democracy? On the one hand, Kenya is a terrible example of what can happen when democracy goes wrong. In 2007-8, over a thousand people were killed and 600,000 became homeless, over a billion dollars of damage was caused, and economic growth fell from a promising 7.1% in 2007 to a sluggish 1.7% (below population growth) in 2008. World Bank analysis shows that from 1980-2010, growth averaged 3.9% in non-election years and only 2.4% in election years. Most of those elections have been marred by violence. Democracy should increase stability, not reduce it.
On the other hand, there's strong evidence across Africa and elsewhere that not only do people want democracy (see eg Afrobarometer's work), but that when it works well, it's an important part of what drives growth and poverty reduction (see eg Radelet on Emerging Africa). This informs British Prime Minister David Cameron's development thinking – that there is a "golden thread" of conditions enabling open societies and open economies to thrive, and address the root causes of poverty and under-development. Supporting this is a better exit strategy for aid than addressing the symptoms for ever more. Cameron recognises that democracy is not just about holding elections: "it's about establishing the building blocks of democracy, the independence of the judiciary and the rule of law, with the majority prepared to defend the rights of the minority, the freedom of the media, a proper place for the army in society, and the development of effective state institutions, political parties and wider civil society".
And poverty? Poor people in Kenya are less likely to vote. In Turkana, Kenya's poorest county (with over 90% of the population under the poverty line), less than a third are registered to vote. Poor people are also more vulnerable to having their votes bought, or suppressed. When you've got seven hungry children and someone offers you a few quid for your ID card, what do you do? When you're young with no hope of a job and someone offers you money to join an armed gang, what do you do?
Democracy should be delivering for the poorest people in Kenya. And the more stable Kenya is, the more elections are about candidates' policies and spending plans and the less they're about tribal alliances and mudslinging, the more candidates will have to focus on meeting the needs of the poor. Reducing poverty should also make democracy work better. All the analysis of the 2007-8 violence pointed at underlying causes that are intimately connected to poverty – unemployment, land disputes, corruption.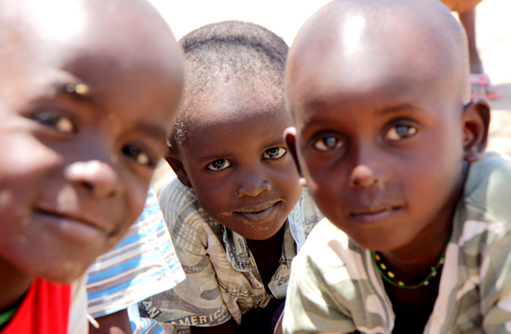 So there are good reasons why foreign donors committed to reducing poverty, such as the UK Government, should offer support to elections in countries like Kenya (without even considering the benefits to the UK of stability in Kenya). And that help is usually warmly welcomed, by people and organisations who don't just want our money, but want to be part of the international community of democratic countries. DFID's aid includes funding and advice to the election commission, voter education, domestic observation, training of judges to deal with election disputes, local conflict prevention, and other measures to reduce the risks of violence.
We're working with Kenyans who are determined to see a peaceful election today, and want all the help they can get. They've achieved a huge amount in the last five years. There's more to do. Whether it's been worth the effort may be decided in the next two days. Polling has got off to a good start this morning – there are the inevitable technical problems with an exercise of this scale, and a couple of nasty but relatively minor security incidents. Some results may be challenged – hopefully in the courts, not the streets. But Kenyans are out in large numbers, voting patiently and peacefully. They deserve a successful election. They believe in democracy, warts and all. So should we.