My name is Thomas Baylem and I work on the Education and Partnerships Team as part of the DFID graduate scheme. On 14th April, I'll be running the Brighton Marathon to raise as much money as I can to support Riders for Health's vital work in sub-Saharan Africa.
Last weekend, being the good grandson that I am, I visited my 94-year-old Gran out in the Essex countryside and naturally I took advantage of the chance to do some serious running away from commuters, traffic lights and tempting odours emanating from fast food restaurants.
I think it must have been around kilometre number 46 of the weekend that I suddenly realised the irony of my endeavour. It was just barely above zero degrees and, of course, I'd only packed some shorts and a t-shirt, so I was probably more or less hypothermic by this point. To compound my suffering, I was caked in thick mud from the waist up from when I had been forced to dive into a deep ditch about an hour earlier to avoid an oncoming Landrover that seemed determined to run me over. Freezing, hungry and starting to cramp up, I thought…why don't they give me a motorbike?
Yes, I essentially intend to travel 42.195 kilometres on foot to help Riders for Health make sure health workers providing essential medical care in rural sub-Saharan Africa don't have to.
Riders for Health provide vehicles (usually motorcycles) to health workers in some of the poorest parts of rural sub-Saharan Africa, which enables them to deliver vital health care directly to communities on a reliable and cost-effective basis.
But what's really impressive is that they also provide training on how to maintain and repair the vehicles and build the capacity of their partners who gradually take on financial responsibility for maintaining the system. It's a really effective model that generates a sustainable improvement in health service access.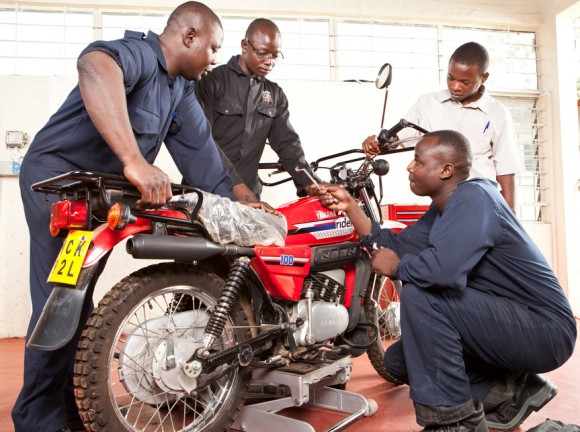 DFID supports Riders for Health through the UK Aid Match scheme and pledged to match all funds raised through the charity's recent "Two Wheel Appeal," pound for pound. Following the enormous success of the appeal, this additional funding has enabled Riders to significantly expand programmes in Zambia and Kenya and mobilise more health workers than would otherwise have been possible.
If nothing else, my marathon training has proven the necessity of what Riders for Health do. After a heavy week of running in which I covered about 90km in total, I arrived at work on Monday sore and physically exhausted. However, the average mobilised health worker travels 250km a week without even breaking a sweat, providing a crucial lifeline to rural communities in the process.
I'll be writing an occasional blog here to update on my training progress and talk more about the charity I'm fundraising for. You can also follow my progress via Twitter or Facebook.