When I started at DFID in October 2010, I didn't expect to be getting on a plane a year later to move to Sudan. My first year at DFID was spent working in our Internal Audit Department, ensuring that the money DFID spends is well managed and delivering the best results. This role required visits to DFID country offices in Afghanistan, Democratic Republic of Congo and Uganda as well as regularly visiting DFID's office in East Kilbride. I had expected to stay in London for a few years before moving on to a country office post but when the chance to work in Sudan came up, it seemed like too good an opportunity to miss.
My friends and family had lots of questions and preconceptions about Sudan and what I would be doing. Some of these I could answer before I left, some of which I can now answer having been here 18 months and some of which I'm still learning about. I thought it might be helpful for my first blog to answer some of these questions.
Are you going to the North or the South?
This I could answer before I left, having applied for a job in Khartoum, Sudan and not South Sudan (capital Juba). In a referendum in January 2011 the South Sudanese voted for secession and South Sudan became the world's newest country on 9 July 2011, transforming Sudan from the largest country in Africa to the third largest. Sudan is almost all desert, irrigated by the White and Blue Niles which meet in Khartoum and move north to Egypt. South Sudan by comparison is greener with the world's largest swamp, the Sudd. Most of Sudan's people are Muslims, while in South Sudan, there are Christians, Muslims and adherents of traditional beliefs.
What is life in Khartoum like?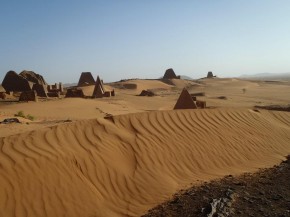 Sudanese people are famously friendly. Khartoum's low crime rates make it one of the safest cities in Africa. My parents and siblings visited me for Christmas and we visited Sudan's pyramids, some of which are older than those in Egypt. Khartoum is one of the world's hottest cities - in December the temperature is a pleasant 30 degrees celcius most days. Now it is over 40 degrees most days, and soon it will be summer when it will be even hotter.
What does a 'policy and aid effectiveness officer' do?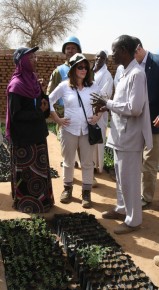 Before I arrived I had an idea of what my job might involve - like most job titles it's full of buzz words and it wasn't clear what interesting things I would get to do. My job is about making sure that the work DFID is doing in Sudan is accountable to the British taxpayer and that they know what we are delivering in Sudan. It's involved organising two ministerial visits for the Parliamentary Undersecretary of State for International Development, most recently in January 2013 for Lynne Featherstone and her predecessor Stephen O'Brien in November 2011. These visits are a great opportunity to show ministers the impact British aid is having on the ground.On the most recent visit, I accompanied the minister to visit DFID programmes in Darfur which included meeting women who were supported by the World Food Programme to make and sell fuel efficient stoves and bricks. Darfur is the size of France and so we had to use a helicopter to visit some of the field sights.
I have also led on DFID Sudan's response to a yellow fever outbreak in Darfur. This was the worst outbreak globally for 20 years. DFID Sudan funded 2 million vaccines to help stop the outbreak in Darfur.The policy part of my role involves leading on the Multilateral Aid Review, which in 2010 looked at the performance of multilateral organisations that DFID funds. In Sudan we have been giving our thoughts on the United Nations Development Programme (UNDP), United Nations High Commission for Refugees (UNHCR) and the International Organisation for Migration's (IOM) performance in country back to the DFID head office on a 6 monthly basis. This helps DFID to make decisions about where it can achieve the best value for money in funding multilateral organisations.Accountability also drives my work on communications, part of which is this blog. It also involves working with press office in London to explain to the UK public what we are doing in Sudan.
What does DFID do in Sudan?
DFID is the second largest bilateral donor to Sudan and we have some ambitious results that we want to deliver by 2015 including supporting 800,000 people to get access to water and 250,000 women with access to security and justice services. In future blogs I will look at our results in more detail. For more information our Operational Plan is a great place to start. On the diplomacy and defence sides, the UK has been supporting talks between Sudan and South Sudan, financially and technically.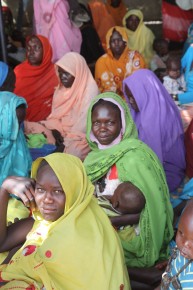 What about Darfur? Is there on-going conflict? 
When most people think about Sudan they will think about Darfur or conflict. Darfur makes up about 50% of DFID's spend in Sudan and so is central to our work here. Sudan has only had 11 years of total peace since independence in 1956 -therefore DFID's work in Sudan focuses on responding to the immediate effects of conflict and the underlying drivers. However there is no short answer to either of these questions and they will need a full blog in future to answer fully. If you're interested, the British Ambassador to Khartoum has blogged this week on Darfur following a donor conference in Doha.
In future blogs I hope to talk about DFID's priorities in Sudan, the 10 year anniversary of the Darfur Conflict, how the UK responded to the yellow fever outbreak in Darfur, our new programme on Female Genital Cutting, how we measure and record what we are delivering in Sudan, amongst other things. Please let me know if there is anything you'd particularly like to hear about.