I landed in Islamabad, Pakistan, 2 years ago to take up the post of Senior Education Adviser and Team Leader. Having worked all my life in education in the UK I was new to international development, leading a new team in a new role with new programmes and learning a new acronym laden language and I am not talking about Urdu.
My career in the UK ranged from teaching to training teachers to inspecting schools and local authorities. So this is what my blogs are going to be about: similarities and differences between my work in the UK and in Pakistan, innovative ideas to tackle the education emergency in Pakistan, setting up new a new not-for-profit company to deliver education to the poor, working to improve the quality of teaching and learning, establishing a good assessment system and looking at system wide reform.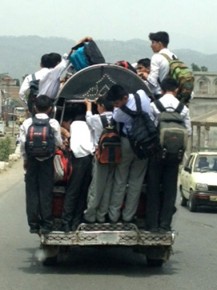 On a personal level there has been a huge amount of learning. Moving from formulating a concept to developing a business case, to procuring implementing partners to actually make it happen is hard work. Things never go as fast as you would like and compromising a little on pace and delivery has been challenging. Also I miss being away from the chalk face, the classroom. We overcome this by visiting schools as often as possible. This is where our work needs to have impact – this is what it's all about the engagement of a teacher with a pupil. What I always believed has been borne out: a good school is a good school whether in a poverty affected locality in Karachi, a rural village in south Punjab or in inner city London. Mind you, I am not sure we would tolerate this version of the school run!
Following all the programme design work it's good to see things coming together – the programmes that you as a team have been working on begin to bear results. Last month our very first out-of-school child attended school using a voucher issued by the Education Fund for Sindh!
The debate rages on about whether development professionals should support the private sector or if the focus should be on the public sector alone to deliver education. However, if we take a province such as Sindh in Pakistan where over 2 million 5-9 year olds are out of school and enrolments in the private sector vary between 30% to 50%, shouldn't we be supporting the least privileged to access education wherever they can? Let me know what you think.
Over the past year DFID has been working with some of Pakistan's senior business leaders to set up a new, independent, not-for-profit company called Education Fund for Sindh (EFS). Its focus will be to ensure children are learning and we will get independent verification of this through an evaluation that will test how children supported by EFS do in comparison to children not supported by EFS. This will include their attendance, retention and most importantly their learning outcomes.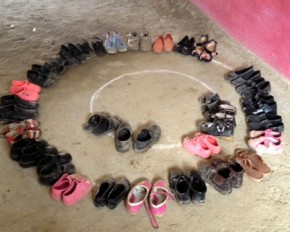 Initially funded by DFID, this company will do 3 things in order to get Sindh's out of school children in school and learning. Firstly, EFS will support organisations who have a proven track record of delivering quality education, such as award-winning The Citizens Foundation and BRAC. The BRAC schools I have seen are amazing in the consistency of children's experience and the quality of learning. In 3 months they opened 200 single classroom schools, educating 6,000 children, complete with the circle of shoes outside the classroom to happy, buzzing children singing nursery rhymes and reading simple words.
Secondly, EFS will establish private management of public schools. We are working with government to establish the parameters of this partnership. There are plenty of people who want to manage schools but they want budgets devolved to the school and performance management responsibility over their workforce.
Finally, EFS will identify out of school children and give them a voucher to attend pre-qualified low cost private schools. This sounds simple but requires EFS to identify and assess the schools in the first place; find the out of school children (door to door knocking with local people); match the children to the school; and finally to establish an assessment system to measure the learning of these children. Last week the first 250 children started school.
Three big challenges face EFS. Firstly, EFS must ensure that children learn – there is little point enrolling children if we cannot also ensure their learning. Secondly, EFS has to make sure it is targeting children who are out of school and therefore address the equity agenda. Finally, it has to do these things in settings where security and ethnic violence are everyday occurrences.
EFS has made a strong start and as it expands it will learn more about what is effective. It's really exciting to be part of EFS - to see an actual company grow out of an idea and to see the children start school.
Sir Michael Barber, DFID's special representative in Pakistan, described the programme as 'making history'. We have a really strong set of founding members who are well-respected, committed and understand the Sindh context. EFS is in its infancy and there is a lot to do before it can be a successful facilitator of quality education for the poorest. The challenge is substantial but so is the pay off. It's genuinely an amazing privilege to work in education – you are part of helping to make someone's future.
This picture taken in Saif-ul-malook gives you an amazing view of snow covered mountains, while only a few hours away temperatures are in their 40s! Pakistan is a beautiful, diverse country.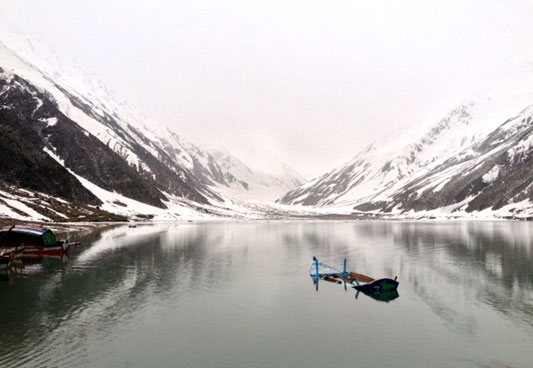 -----------------------------------------------------------------------------------------------------
Are you interested in development issues and the UK's support to Pakistan? Sign up to receive our quarterly newsletter which includes new announcements, case studies, photos and blogs on our work as well as jobs and funding opportunities.