Ever since I arrived as Head of DFID Kenya a few weeks back, I have been trying to persuade my mum to Skype me. She is not keen. And in any case before she did that, I know there would be a few pre-conditions to meet. Amongst them, getting her a computer, working out how to turn it on, connecting wireless into her house, and significant time from other members of my family when she can't seem to make contact with me.
When I tell her on the phone how, in Kenya 93% of the population has a mobile phone, double the number from just five years ago, she isn't that surprised. But when I tell her that 19 million Kenyans use it to send money to other members of their family (even though only 7 million Kenyans have a bank account); to pay bills; to take out and pay back loans; to buy from street sellers; to pay school fees, she can't imagine what that's like. I tell her that every month, over £1 billion payments are handled by Safaricom, a mobile phone operator, and then I know I've lost her completely. She - and I for that matter -think that's a lot of money. But in fact although these payments represent 70% of all money moving around the system, they only account for about 2% of all transactions, so don't pose much risk for the economy.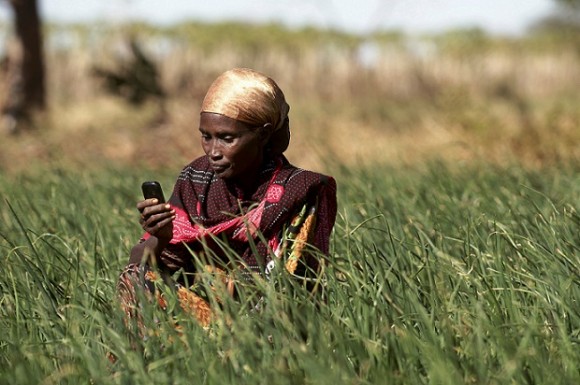 She assumes it must be the relatively richer Kenyans who use their mobiles in this way. After all isn't a mobile phone a luxury? A sign of a more affluent society?  She managed without one for most of her life and was no worse off for it. And to be able to send money with a phone sounds very complicated…very risky, and surely expensive. But I tell her that in most Kenyan families (it's 86% in fact, but I know not to use statistics with her) there is at least one person who uses this system. Also that almost two thirds of the poor in Kenya (70%) uses it, and they have never had a bank account and don't see a reason to open one.
So what's this phenomenon called?  And how come I know so much about it?  Well, it's because DFID can lay some claim for its creation. It's called M-PESA, which is Swahili for 'money'. People use it in their everyday language here. 'Can you M-PESA it over to me?'… I'll hear people say, reminding me to check if it's actually reached the Oxford English Dictionary as a verb yet. Essentially, you press a few buttons on your mobile phone, including your recipient's mobile number, and next minute, or more accurately, the next second, the money is transferred and received.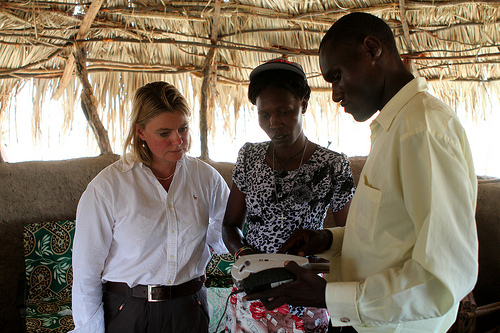 For UK aid, I think it must have been one of our best investments ever. We joined up with Vodafone some years ago to see if a mobile money operation they had been developing could benefit poor people in Kenya (PDF 1.20MB). Now, around 10 years later, and with a contribution of £910,000 from DFID, and £990,000 from Vodafone, I can see that British taxpayers' money has helped to make really important changes to the lives of poor people in Kenya with it.
When people rely only on cash, they are much more vulnerable and marginalised. Their assets are in the cash they have and their livestock. M-PESA keeps their money safe, even if their mobile phone goes missing. And bringing poor people into the formal economy means they can also better access other financial products and services. M-PESA is quick too, almost instantaneous, and so, when times get tough, it offers a way to get help quickly from relatives etc. It's good for the country as well. I'm amazed to find out that it can cost something like 2% of a country's Gross Domestic Product to process cash payments in an economy. That's a percentage worth having for economic growth and poverty reduction. It reminds me that I must book to have a meeting with some people at Safaricom to talk to them about joining up again to see how we can get the last few hundred thousand poor people in Kenya included into M-PESA. I'm also interested in getting more mobile phones and mobile money into the hands of poor Kenyan women – a group often excluded.
By this time, I realise the other end of the phone has gone quiet. I've gone into 'development speak' with all my figures and terms and my mum is now a bit bored with our conversation. I decide to leave the use of biometrics in Kenya, as a way to make sure money gets to the right individual, for another day. Meanwhile, the possibility of Skype-ing seems no closer. But it leaves me wondering, when I'm the other side of 80 years old, what new technology I'll be talking to my son about! And whether, as in this case, innovation will be quietly taking place in the most surprising of places.