Thank you for all your comments on my last blog and your support for our work. In it I wrote about our innovative Education Fund for Sindh (EFS) programme. Since then EFS has supported 6,000 out of school children to attend their local private school. Half of these children are being taught in after school classes so they can join the mainstream school next year. A big push will start in September in an attempt to triple this figure.
Another programme my team is working on is the innovation fund, Ilm-ideas (ilm means knowledge in Urdu). This is providing funding for innovative projects developed by people working in Pakistan to address some of the practical challenges that children here face in trying to get an education. Set up in early 2012, the programme has received nearly 700 applications, 40 of which have been selected for funding through an open call for proposals and a robust selection methodology. Funds are given on a 3 point scale: 1. To test the concept; 2. Prove the concept and 3. To scale up. Currently, the Ilm Ideas fund is benefiting nearly 30,000 children.
Funded programmes include creating online resources to help teach deaf children how to communicate by developing Pakistan Sign Language. When I visited the Deaf Reach School, who are leading this work, the sense of enjoyment from the children was captivating. When judging quality of education, 1 indicator is just to look and talk to the children. Look at the picture: the smiles, the engagement, the confidence to interact with adults. The children, of course, not only learn sign language but also learn to read in Urdu and English as well. Teachers teach with skill and passion and as a result children love being in school and their learning thrives. I am convinced teachers who teach hearing children could learn from these teachers about teaching literacy well. A view endorsed by a recent article in the Guardian.
Another Ilm-Ideas programme involves setting up community based learning centres for out-of-school girls, to give them a second chance to go to school. Why should getting married or having children stop you from learning? And what a good example to set your children about lifelong learning.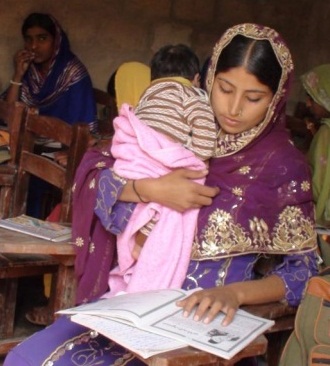 Last month I was on an Ilm-Ideas panel to consider which ideas should be supported to scale up further. Winners for scaling up programmes included an online mathematics programme being installed in existing computer labs in Punjab. The software was mapped to Pakistan's national curriculum and linked to teachers' scheme of work. Initial findings show good gains in learning and more use of the computer labs by a wider range of pupils.
Another programme approved for scaling up is the School Assessment for School Improvement by ITA. The idea is to evaluate several aspects of a school and provide clear recommendations for development on areas such as financial capability, quality of teaching and learning. The true innovation is then the linking up of schools with providers who can assist them in addressing the areas for improvement.
Another winner is Ilm on Wheels, which uses a specially adapted Internet-enabled van to travel to far flung areas and teach mathematics via web-link. A teacher in Islamabad is able to teach children in a village in Khyber Pakhtunkhwa. Low cost tablets are then used to immediately assess learning outcomes. Findings are shared with teachers who are given specific tasks to use with their pupils. Ilm on Wheels have, for the scale up, extended the programme to literacy as well. Children also use the tablets to play educational games. Needless to say this has been a big hit with children and teachers alike. The van returns every fortnight. The potential for this model to not only bring technology to children who may otherwise never experience it but also as a mechanism to coach teachers is substantial.
Sometimes we get innovations which really shouldn't be innovations but sadly are. One grantee received funding for opening a school for girls in the afternoon in the same building as the school for boys which runs in the morning. We funded this and it worked. Now it's time for a conversation with the provincial government to adopt this 'innovation' on a much wider scale.
We were lucky to have Charlie Leadbeater, an innovation expert who has written about innovation in education, come to Pakistan and work with the Ilm-ideas team to refine their model. This created a shift in what the fund intends to do: not just call for proposals and disperse grants but to actively work to generate innovation and provide support to innovators. This includes supporting education experts to refine their business model and business experts to strengthen their technical education expertise.  It is also about Ilm-Ideas being a centre of innovation in Pakistan. It has already partnered with DFID funded Centre for Education Innovation which is a global platform to identify, analyse and connect non-state innovations.
Well done to the Ilm-ideas team - over a year ago this programme did not exist. Now it is harnessing innovation in Pakistan to improve life chances of children and young people and we are scaling it up. Innovations proven to work in Pakistan could have application beyond Pakistan. I wish Ilm-ideas every success in its journey towards being an innovation hub.
We want more tech and non-tech innovators to help design new ways of educating children. I want to see more innovation in teaching literacy, to encourage, for example, budding app designers to develop something to teach Urdu using hand held technology or mobiles or video or cheap computers. More widely, do you think you can mentor the innovators? Refine their business model? Help develop their technical skills? If so, do contact the Ilm-ideas team.
---
Are you interested in development issues and the UK's support to Pakistan? Sign up to receive our quarterly newsletter which includes new announcements, case studies, photos and blogs on our work as well as jobs and funding opportunities.