One in 3 women across the world has experienced domestic violence. It's a horrible thought, but based on this statistic, the chances are we may all know someone who has been suffering in silence.
Living with the fear of violence devastates the lives of girls and women. It massively damages their physical and emotional wellbeing and prevents them realising their potential.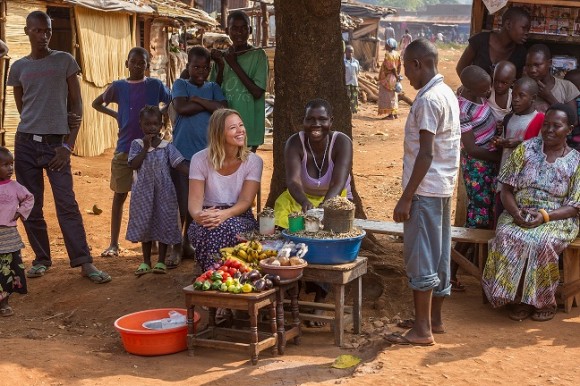 In Africa, it's often the women who are trapped in poverty who experience domestic violence. However, 1 project is working tirelessly to help them break free.
By teaching girls and women their rights and explaining that they are equal to men and boys, the organisation MIFUMI is making great strides in changing attitudes and turning lives around. It offers counselling, education, small business loans and campaigning against domestic violence.
They are giving women the tools to stand up for themselves, so they can earn an income and provide for their children. By becoming positive role models they give their children a better chance of a brighter future.
I travelled to eastern Uganda to see how money raised through Red Nose Day, some of which was matched by the UK government, is empowering girls and women.
I met Christine, 31, a quiet and gentle mother of three, who experienced brutal behaviour from the very first day of her marriage.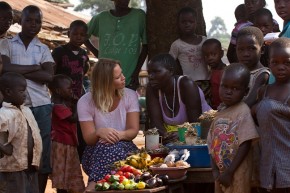 She tells me that instead of buying food for the family her husband would come home drunk and beat her and the children. She never enjoyed a moment's happiness with him. Unable to withstand the abuse any longer, Christine took her children and ran away to her father's home.
After time recovering, she contacted one of MIFUMI's local advice centres where she received counselling and was encouraged and supported to make her own money. She joined the project's savings scheme and took out a small loan to launch a business selling sardines in a nearby bustling market.
Once a week she leaves at 5am to buy a giant sack of sardines at wholesale prices which she carries back on a bus, getting home around 6pm.
I went to meet Christine in the market, where she runs her stall. It's hard work but the good news is that business is booming. From her weekly profits she has saved enough money to buy a piece of land to build a home for her family. She intends to take out another loan so she can scale up her enterprise.
With a big smile she tells me that she has taken control of her life and is able to feed, clothe and educate her children who now live peacefully together.
"We are happy and safe and I have the money to make sure we have a good diet. Our lives have changed very much because of the help I received from MIFUMI," says Christine.
Thanks to the project's support and her sheer hard work, her children will have the kind of opportunities Christine was denied growing up.
As a child she always dreamed of being a teacher but had to leave school because her parents couldn't afford to send her. However, she now gives advice to other women and tells them that having children should not be a hindrance to fleeing a violent man. She may not be in a classroom, but she is doing an incredible job of teaching other women how to break free from a violent man.
It's clear to see how MIFUMI's work is helping thousands of girls and women to understand their rights, gain an education and employment, so they can provide for their families in the future.
---
Please note, this is a guest blog. Views expressed here do not necessarily represent the views of DFID or have the support of the British government.