As Country Director of an organisation dedicated to combating avoidable blindness and exclusion of blind people, local health systems and attitudes towards people with disabilities are 2 of the biggest influences on our ability to improve lives.
So the past 2 weeks have given us much to celebrate here in Uganda, with the formal launch of the UK Uganda Health Alliance and the visit of UK minister and disability champion Lynne Featherstone.
On 15 October 2013, I attended the launch of the Uganda UK Health Alliance. This exciting new partnership aims to support the Ugandan government to develop its health workforce and improve its health system.
The ceremony was hosted by the Ministry of Health and attended by its top officials as well as the Head of DFID Uganda, Daniel Graymore and representatives of the University Hospital of South Manchester Academy, where the Alliance was set up by Professor of Medical Education Ged Byrne.
The Alliance is set to provide learning, research and development opportunities for health workers and health institutions; promote coordination between Uganda and UK organisations; promote internationally recognised standards of health care delivery; share experience and expertise; and work towards maximising the health benefits of Ugandan people.
The new Alliance is hugely welcome for a number of reasons.
Firstly, I hope it will lead to much-needed improvements in the health workforce. Uganda is one of the 57 countries considered by the World Health Organisation to have a critical health worker shortage, and the crisis is especially acute in human resources for eye health, which across Africa has traditionally relied on external funding. Speaking at the ceremony, Health Minister Eliota Tumwesigye cited insufficient and de-motivated human resources as one of the main challenges in delivering health care in Uganda. But as international health advocate Lord Nigel Crisp, Chair of Sightsavers says, 'People are the most important part of any healthcare system'. We must urgently address this issue.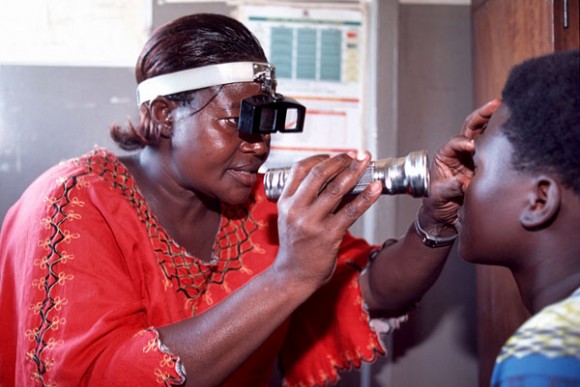 Secondly, I hope the Alliance will provide a platform for partners to coordinate activities and joint programmes.For example, the Sightsavers-led global trachoma mapping project, funded by the UK government, aims to identify where people are living at risk of the blinding disease trachoma. The project has benefited enormously from collaboration, such as with organisations in the water, sanitation and hygiene (WASH) sector resulting in efficiencies in data collection that will help us target the people who need treatment most, using the most effective solutions. I hope that more collaborations like this will be facilitated locally by the Alliance, for instance networking with reproductive health agencies would help in early detection and treatment of childhood blindness conditions, agencies with nutrition and immunization interventions (e.g. Vitamin A supplementation, measles immunisation) are good allies in blindness prevention. And when fully operational, the Alliance will be an important network in which the Ministry of Health and Health Development Partners can engage with each other.
I had another opportunity to discuss the Alliance with Head of DFID Uganda, Daniel Graymore a week later at a reception for UK Minister Lynne Featherstone. The reception was the last event in an incredibly inspirational visit which aimed to make people with disabilities a key development priority.
The purpose of the Minister's visit was to learn from Uganda's successes and challenges in order to inform the UK's approach to disability and development.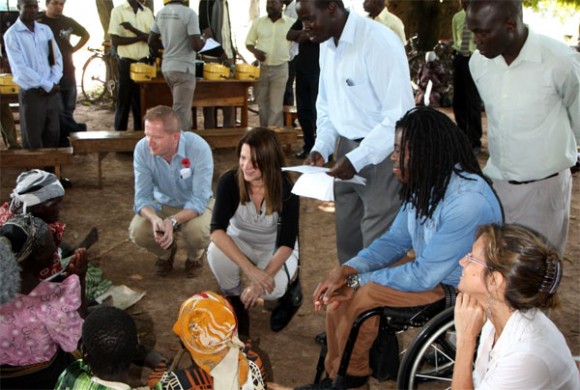 As part of an organisation which advocates for the world's 1 billion people with disabilities to be at the heart of development, it was extremely gratifying to hear the Minister make a passionate appeal imploring the audience to keep pushing for inclusion of disability in the successor framework to the Millennium Development Goals. I was honored to attend a meeting with the Minister and heads of NGOs to discuss what we feel are the priority issues to make this happen.
I was so encouraged to hear of the renewed commitment from DFID, not only to directly support and fund disability rights initiatives but to ensuring people with disabilities aren't left behind in global efforts to eradicate poverty. To borrow a quote from Lynne Featherstone, it really does feel like we have 'reached a watershed moment on disability', one that we will not pass up.
------------------------------------------------------------------------------
Please note, this is a guest blog. Views expressed here do not necessarily represent the views of DFID or have the support of the British government.