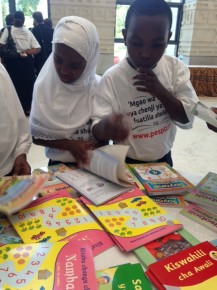 The Tanzanian government launched a new website last week to establish a monitoring system to 'crowd source' oversight of a huge logistical exercise that is now underway. DFID Tanzania has been assigned the task of supporting the Tanzanian government to purchase and distribute millions of textbooks using £29.5 million of funds – see my post from last year where I asked for help on how to do this!
An MoU signed in March 2012 by the UK and Tanzanian governments, BAe Systems and the UK Serious Fraud Office has resulted in around 19 million books been procured and are now being distributed to more than 16,000 public primary schools, along with school desks and chairs. DFID are providing expert advice on procurement and financial management to Tanzania's Prime Minister's Office – Regional Administration and Local Government who manage the tendering process. This has also allowed competitive prices to be achieved and improved value for money.
The Primary Education Support Project website, which was developed by Tanzanian company Datavision, was launched by Zuberi Samataba, Deputy Permanent Secretary of the Prime Minister's Office Regional Administration and Local Government. He presented sample textbooks to students and answered questions from the media who widely broadcast the news of how to use the website, including an SMS hotline, throughout Tanzania.
The website enables easy monitoring and provision of feedback via website comments, SMS or phone call-back on any deviations from the detailed delivery plans, which are based upon school enrolment data. It also seeks to promote mutual accountability amongst different actors, including the publishers, government, civil society organisations, media, parents and community members.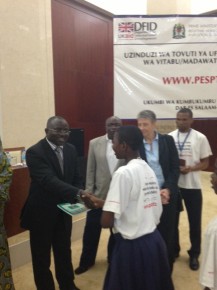 The site has already got a tentative 'thumbs up' from the mtega blog, that critiques the approach to transparency and would like to see improvements and more information online about the actual financial settlement reached. The civil society organisation TWAWEZA plans to use the data available to make checks at 150 schools. Their findings should make interesting reading, as will how disputes get resolved between schools, government and the publishers supplying the textbooks.
With the launch of this system, Tanzania's portfolio on implementing the Open Government Partnership will be enhanced with detailed information available online. DFID Tanzania is working in collaboration with the World Bank to support the country's OGP commitments and action plan.