The storm surge from Typhoon Haiyan completely washed away all of the houses facing onto the beach in Tanza – when we visited 12 days after, all that was left were a few concrete foundations, and haphazard piles of rubble, wood and broken bamboo. As I walked along the beach taking a photograph, a man sitting under the shade of a tarpaulin propped over the broken frame of a fishing boat said to me, pointing to where I was standing, "house gone". "Yes", I responded – it was quite hard to know what else to say.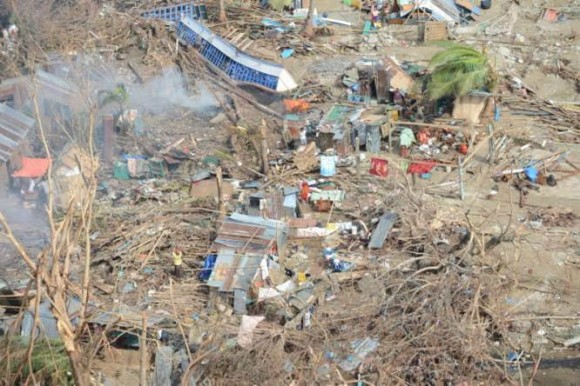 Three or 4 rows of houses in from the sea, buildings are still standing, more or less. Tiles or corrugated iron sheets have been ripped off, whilst fallen trees and felled power lines have inflicted further damage on the buildings. When we arrive, the villagers of Tanza are queuing up in the humid midday sun for a distribution of plastic sheets and household utensils (cutlery, pans, plates etc) from Save the Children (UK aid is directly supporting Save's response to the Typhoon in several areas in the Philippines, including Tacloban). The packs are only being distributed to people whose houses were partially or fully destroyed, but in Tanza this is almost 90%. People's livelihoods have been literally shattered as fishing boats were wrecked by the typhoon, coconut trees felled, crops decimated or ruined by salination from the storm surge.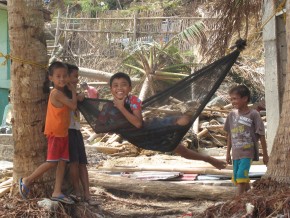 Media coverage has focused on the dramatic pictures and the devastation wrought in Tacloban, but as the days roll on international attention moves elsewhere, it's clear that other areas of the Philippines were just as badly affected. Typhoon Haiyan island-hopped across the Philippines from West to East, and just as it is the Philippines' misfortune to be prone to just about every natural disaster possible, being a country of more than 7000 islands, when a calamity like Typhoon Haiyan happens, some of the more isolated island communities become impossible to reach. At the same time as we're visiting Tanza, not too far away off the coast HMS Daring is visiting these remote islands, distributing essential supplies and providing medical assistance. The destructive path the typhoon took is really localised, leaving some one neighbouring island with total devastation and its neighbour virtually untouched: aerial reconnaissance photos from Daring showed images of Boracay's untouched verdant green golf courses on one shot, and total devastation wrought on other islands in the next.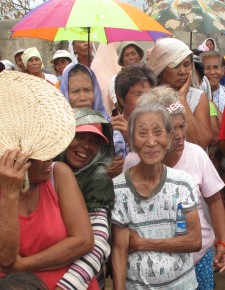 Media coverage leapt on reports of looting and unrest in Tacloban and elsewhere in the days following the storm – but everything we have heard and seen suggested otherwise. Yes, people were understandably shocked, and desperate for food and water in the initial days following the storm, but Filippino communities have pulled together, and everyone we've met seems resolute and determined to recover and build back their lives as best they can. Back in Tanza, good natured jostling within the queue starts as the Save the Children trucks pull up. Wizened old women dig their elbows in, and enthusiastically wave as I walk down the line of people. Children chase me down the beach, giggling as I ask to take their photos; their school is damaged and won't be open until January at the earliest we hear, their parents' livelihoods are probably seriously affected, but everyone seems to be focusing on trying to put their lives back together.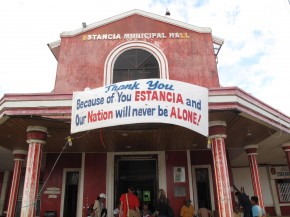 As I sat in the evening nursing a beer in a dingy bar in Roxas city trying to collect my thoughts and put together my notes for the day, several locals came up to me and said "thank you for what you're doing to help my country", "thank you to everyone in your country for their support". It's embarrassing really – most of what we do is based out of a hotel in Manila, fuelled on a diet of long hours, caffeine and fast food. Long after we and most of the international community has packed their bags and gone home – as ever it will be the Filipinos who are the first responders on the scene, and those people like the women who'd lost her own house in the storm, but who volunteered to travel to Tanza and help the distribution of tarpaulins, who will actually make the difference.
------------------------------------------------------------------------------------