English may be the official language here in Sierra Leone, but the majority communicate every day in Krio, a mash of English, Portuguese and French with an African grammar. Because there are some English words peppered around in there, you think you can follow along (until you can't). Today I've been hearing about 'small-small'. DFID runs some big projects which impact on millions, of which I am very proud. But sometimes it is good to be reminded of the small-small.
Take Mama, who I met today in Makeni with Street Child. Supported by DFID, Street Child found 2 of Mama's children on the street - she did not have the money to feed them. Our project has provided her with a grant of around £30 for a business, promising to match whatever she could save from the business in 10 weeks and mentoring her. Mama says her business, selling firewood, is small-small. But it means all her children eat, and go to school. The business continues without further help.
Take a small DFID pilot project in Makeni, attempting to prove that waste can promise wealth. Among the small recycling projects, I visited a group of women weaving with strands of plastic bags. A woman had been out from Ethiopia with the idea, spent a week teaching the technique and left some knitting needles behind. When I turn up, there are 6 women around the table, some disabled, who are knitting the most beautiful things. That idea, those needles, are small-small. Their impact for those women and the local environment is not.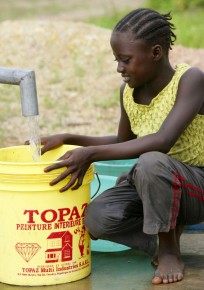 In Sierra Leone, DFID will ensure that by 2015, 1 million more children will be protected from malaria by sleeping under nets; and we'll help around 1.4 million people gain access to clean drinking water.
UK aid can be significant sums aimed at tackling major national and international problems. As it approaches the local level, it can be split into small-small packages. But I never cease to be proud of the impact it can have. It can be huge.
Lynne Featherstone is currently in Sierra Leone. Read her previous blog: Sierra Leone: A helping hand on the road to recovery.