The helicopter banks down steeply to the left, and we're approaching Akobo town; the miles of flat scrub land and acacia trees have given way to a scattering of huts and one-story, corrugated iron-roofed brick buildings. We hover over a patch of mud while the cows herded below scatter, then make our landing.
Akobo county is in Jonglei, one of the 3 states worst affected by the fighting in South Sudan since the conflict there escalated in December last year. Akobo is deep in opposition-held territory, and the lack of tarmac roads (there are only a few miles of paved roads in the country) combined with the rainy season, mean it's virtually inaccessible from much of the rest of the country at this time of year – hence the UN helicopter ride.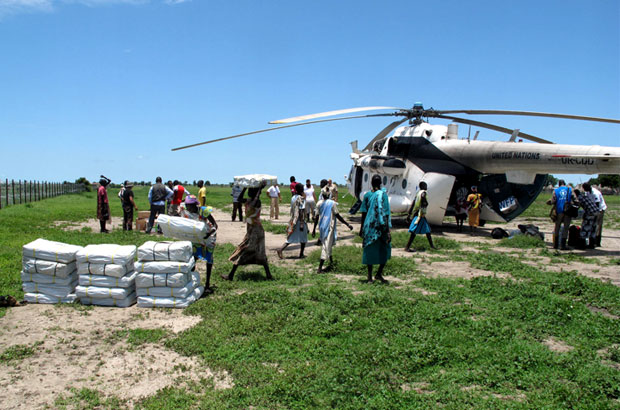 This aerial route, along with a trickle of food and other basic items from across the river in Ethiopia, is the only way supplies are getting in or people are getting out of Akobo. And small planes can only land on the dirt air strip if it hasn't rained for several days. Inaccessibility also explains why it has remained relatively quiet in Akobo this year. We can hear the deep boom of shelling in Nasir during our visit, but there are few signs of weapons in Akobo itself and people are welcoming.
With 1.1 million people forced to flee their homes within the country because of the conflict, and more than 400,000 now in neighbouring countries, the impact is deeply felt, even if the fighting hasn't recently been ongoing in Akobo itself. Akobo is now home to tens of thousands of South Sudanese who fled from their homes elsewhere in the county, often coming empty-handed. Displaced families have been welcomed into villages and given land to plant on, while their children have been accepted into already overfull schools by local communities. But fighting and displacement has made an already fragile food security situation far worse and is stretching the limited resources of many families further than they can reach.
As Akobo is in opposition hands, mobile phone networks have been shut down and, teacher and health worker salaries not paid since last year. Even before the rainy season shut down all roads in the country, goods making the 3 day journey by road from the capital Juba into Akobo had been embargoed, further exacerbating the situation.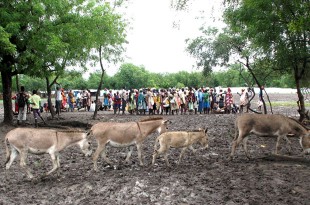 Many people displaced from their homes left with nothing, while for others the planting season has been disrupted by the conflict. Many are currently facing a hunger gap as they run out of food from last year's harvest, and still have several months to wait for this year's yield, if they managed to plant at all. It looks increasingly possible that a famine might be declared in South Sudan later this year or next.
In Akobo we are spending several days with UK aid-funded partner FAO – the UN Food and Agriculture Organisation. Through partner Plan International, they are racing to distribute seeds and tools for people to plant before the end of the rainy season.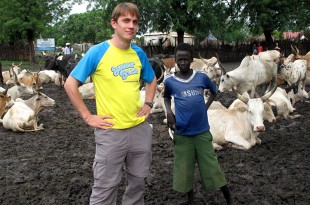 We wade through mud along the main road in town, a day's rainfall in Akobo making the year I lived in Glasgow look positively Saharan. It's a deep dark brown and the mud literally engulfs you; locals sure-footedly stride past us in bare feet balancing sacks of sorghum on their heads whilst we wallow through in our boots. There's no way any car could travel on these roads, and there's a shortage of fuel in town anyway.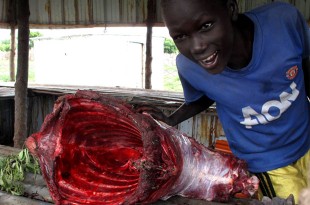 Wandering through the market it looks adequately stocked: bars of soap, bottles of coke and bowls of dry pasta sold by Ethiopian traders in corrugated iron lean-tos, but how many of the population actually have enough money to buy any of these products, and how accessible they would be to the rest of the country anyway is a different question. The western part of Akobo is currently only accessible by foot, a 10-hour walk or more through the mud.
Sorghum, maize and cowpea seeds are being distributed along with hoes by FAO's partner Plan in the centre of town. They have been airdropped into Akobo. We talk to some of the women queuing up to collect their seeds – some will have to walk several hours carrying the heavy bags through the mud to get home. But it is the best option in these extreme circumstances, and it has certainly come at the right time – one of the women tells me people in her village were already starting to leave for Ethiopia as they had run out of food.
Growing cereals isn't people's only livelihood - South Sudanese are of course famous for their love of their cows. Bride price, source of income and sign of status, each cow is normally given its own name. Some of those displaced have managed to bring their cattle with them, but with this comes risk of spread of disease. Others were forced to leave their cows behind, sell them or slaughter them, but this means depleting the only assets that a family might have.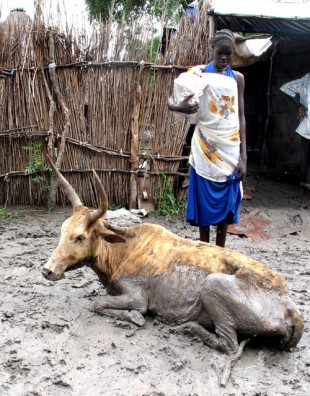 Animal community health workers trained by Veterinaire Sans Frontieres (VSF) - supported by UK aid through FAO - help treat cattle diseases. Tot, who works for VSF takes us to meet Nibol, who is hoping to get treatment for one of her cows, Iana, who has sleeping sickness. The disease is treatable, but the drugs aren't currently available in Akobo. Nibol has 8 people in her household and 7 cows – only 1 of them is producing milk at the moment. This milk is quite literally a lifeline for a family – the bottles that they can sell in the market might be their only source of income, and the only thing that stops them relying entirely on food aid. We hear the following day that Nibol's cow Iana has died. If the treatment doesn't arrive, hundreds more families will risk losing their only sources of income.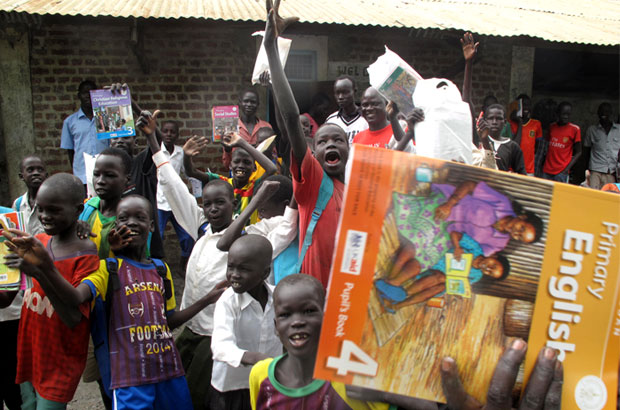 We visit 2 of the primary schools in town and are greeted by hoards of over-excited children waving UK aid branded textbooks at us. Clearly these made it to Akobo, also by plane, which is good news. Schools had initially closed following the fighting. Not being paid a salary, teachers were forced to start farming or look for alternative sources of income, but Save the Children have started paying them a modest incentive (with UK aid funds) and now 19 of 20 schools in Akobo are open again, restoring a least some sense of normality for the kids.
We speak to Michael, one of the teachers, who has lost contact with his wife and children since the panic when they all fled Juba in December. It wasn't the first time he'd been displaced - along with thousands of others he'd had his citizenship revoked and been forced to leave Khartoum when South Sudan gained independence.
Passing another primary school in the afternoon we meet some adults, also eagerly brandishing their books, who are going to classes too. Despite working all day, they too seem desperate to attend their literacy programme, and return some sense of normalcy to their lives.
The doctor steps outside the operation room when he hears we've arrived at the hospital. Despite the mud he's wearing bright red suede loafers below his white coat, and bursts into a deep rich Congolese laugh when he sees us. This hospital run by International Medical Corps (IMC), supported by UK aid elsewhere in the country, is the only secondary health facility serving the whole of Akobo. General practitioner, surgeon, anaesthetist – as the only doctor in the county he heroically serves as them all.
Getting the right drugs into Akobo is a continual struggle, and the statistics tell a difficult story. The reported 31% global acute malnutrition rate of children under 5 is massive, while the 16 births that happened in the hospital last month (covering a population of 100,000) might reflect even the difficulty of making it to the hospital. "Although", the doctor chuckles, "it's been far more popular since we got a male midwife; men like to be seen by women, and women like to be seen by men…"
Later in the week we go to the doctor's compound to meet the rest of the team: a nutritionist and midwife both from the Rift Valley, and an Ethiopian project manager. The doctor, still wearing his red suede shoes, is attacking the wiring of the freezer with a blunt knife, pausing periodically to chuckle. The lights go out and he runs outside to perform the nightly ritual of transferring the 1 fully functioning battery from car to generator - batteries are another thing it's impossible to get hold of in Akobo.
The team really has their work cut out: the following morning we learn that dozens of people are shot or injured by the shrapnel in the fighting in Nassir have arrived by boat and been admitted to the hospital. The doctor has to operate single-handed until reinforcements arrive on the helicopter the following day.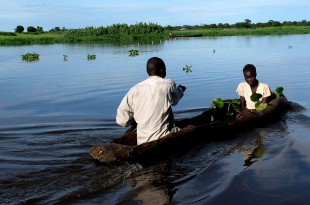 On Sunday the rain subsides and the sun bursts through the clouds, the earth starts to dry and walking down to the river through the green fields of sorghum that villagers have managed to plant, Akobo looks a very different place. The river's edge is the natural boundary between Ethiopia and South Sudan, and it is here that many South Sudanese have crossed, becoming refugees.
We talk to Niel, who is kneeling washing her clothes in the water on the South Sudanese side. Her children are being looked after in the nearby village she tells us, and they are planning to cross the border tomorrow. She walked all the way here with them empty-handed, from a town around 60 miles away. Others, she tells us, have come from as far as Bentiu or Malakal – hundreds of miles. What makes some displaced people settle in nearby villages, and others cross the border to live in a refugee camp in Ethiopia isn't clear. Family connections perhaps keeps some, for others the possibility of basic services in the camps might be a draw; either way, for people to walk so far, conditions inland must be really desperate.
Today is World Humanitarian Day, a recognition of humanitarian workers, including those who have lost their lives doing their jobs across the world. Earlier this month 6 local humanitarian workers were killed in South Sudan. For any other country in the world it would surely have made headline news; the fact that it was in South Sudan and they were South Sudanese shouldn't make a difference. In nearly every humanitarian response it is local rather than international staff whose skills, relationships and understanding drive the work; they are often the ones who are put most at risk for the least reward, and who stay behind when the situation gets too dangerous and the international staff leave.
In South Sudan, with the country increasingly being divided along ethnic lines, local staff are even more at risk. Even while we were in Akobo 1 local staff member had to be evacuated by helicopter, his safety compromised because he had been mistakenly taken for another ethnicity. The Ugandan radiologist in Akobo hospital had similarly been forced to flee. As the hunger gap increases and the prospect of a famine that is man made by the ongoing fighting looms, it is these people who will have a more crucial role to play than ever.
Keep in touch. Sign up for email updates from this blog, or follow DFID Response on Twitter.