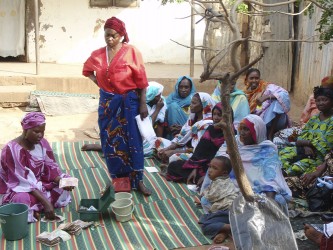 We are in the shanty side-streets of Paoua, where crumbling buildings patched with tin crowd in on dusty alleys, and where skinny cats patrol. I am sitting with a group of thirty women, and their attention is focussed on two metal boxes in the middle of the circle. They are money boxes, one painted red and one painted green. Altogether, it doesn't look like much. But in fact, something very important is happening here, and the idea is ingeniously simple.
Each week, each of the thirty women in the group contributes 100 Central African Francs (about 15p), which is divided between green and red boxes. And each week, the fund releases a block of money to one woman. So what's the big deal?
First, this is a way for women to squirrel away money where there are real, but often mundane, risks to making household savings. One woman told me how she had lost all her savings because mice ate through her plastic savings bag. But more often, it is men that are the problem; they tend to fritter savings. Second, it is a way of generating credit. The sum given to one woman each week is piteously small - not much more than a few pounds - but it is an amount that could never be accumulated in the hand-to-mouth existence that families in Paoua lead.  And credit is vital if women are to kickstart businesses, such as selling cooked peanuts or cassava chips - the stuff of petty trade that lines the edges of the streets in Paoua.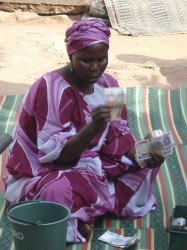 This is the women's weekly meeting, and they have dressed up for the occasion. They smile broadly at my faltering attempts to greet them in the local tongue of Songho, and then return to chatting quietly as their contributions are collected. Then the money in the green box is meticulously counted, and everything is carefully recorded in a ledger by the group's secretary. In a corner of the courtyard, a woman is working a knitting machine, and beside her is a pile of woolly children's hats. There is a market for these - something I never did understand in this sweltering corner of the world - but their sale provides a further income stream for the green box. So apart from providing revolving credit, the box can then also furnish loans to the women in the group.  And what accumulates in the red box covers the cost of emergency healthcare; a simple health insurance scheme.
In my job, I am used to looking at emergency wells, food distributions and displacement camps. So on a hot afternoon in a Paoua slum, it took me time to understand the significance of what I was watching. In this dusty courtyard, these women were able to look up - for a brief moment - from hardscrabble day-to-day questions like putting the next meal on the table. The quiet diligence of these women and this revolving credit scheme supported by DFID is something transformational - an engine that may just allow us to move beyond the relief handouts.